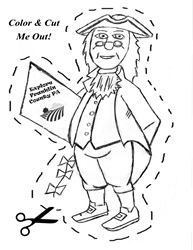 Spring Into History is a gateway to explore in Franklin County with twenty sites organized in a circular route to begin the tour at any point.
Franklin County, PA (PRWEB) February 28, 2015
On April 18, Franklin County springs into history with its third annual history ramble--aptly named Spring Into History. Traverse centuries of American heritage and culture in Franklin County. Take in Native American artifacts, explore the history and culture of the frontier and colonial America, secret passages of the Underground Railroad, raids and invasions of the Civil War, and centuries of American military history. See architectural and archaeological history. Discover the foundation of 20th-century forestry conservation. Understand the importance of firefighting history and the turn-of-the-twentieth century evolution of industry. Take the leap, take a fresh look at Franklin County, and spring into America's history.
New this year is Flat Ben. Flat Ben is the Franklin County Visitors Bureau's ambassador of Franklin County, a companion, resembling the historic figure Benjamin Franklin, designed to help visitors get to know Franklin County better. Flat Ben is modeled after Flat Stanley, a book character from the early 60s that travels around and documents his exploits, Flat Ben is here and looking to explore Franklin County. As the weather gets nicer and Spring Into History comes, Flat Ben is ready to get out and explore. He doesn't want to stay cooped up in the Franklin County Visitors Bureau office; he wants to get out and get his picture taken with as many places as possible.
Special for Spring into History on April 18, visitors can take pictures of their own cut and colored Bens with the self-guided tour's historical landmarks and share the photos on the visitors bureau's social media pages. Take four photos of Ben at Spring Into History sites and be entered to win a basket of Franklin County goodies--one for adults and one for children. Details are available at all tour sites.
Spring Into History includes stops such as the Mont Alto Historical Society, where an Underground Railroad exhibit is featured. Follow escaping enslaved, traveling toward freedom in south central Pennsylvania, through an area known as Ground Zero of the Underground Railroad. Or, discover more Underground Railroad history at Allison Antrim Museum in Greencastle. This site includes an authentic slave collar and the story of the man, who wore it.
Explore two centuries of history at the Franklin County Old jail museum house, built in 1818 and surviving the Confederate burning of Chambersburg in 1864. This jail was Pennsylvania's oldest continuously operating jail. A few doors from the Old jail is the Mary Ritner boarding house. The property, designated as an Underground Railroad site by the National Park Service's Network to Freedom program, served as John Brown's northern headquarters during the raid on Harpers Ferry in the summer of 1859.
April 18 marks the official public opening of Franklin County's only Civil War museum--the Battle of Monterey Pass Museum, which Explorers Civil War history and Pennsylvania's second largest battle fought as part of the retreat of the Campaign of Gettysburg where more than 10,000 Confederate and Union soldiers clashed at midnight in a raging storm across two states and four counties.
Spring Into History is a gateway to explore in Franklin County with twenty sites organized in a circular route to begin the tour at any point. All sites have no admission fee. Download the self-guided tour booklet at DoDineStayFranklinCountyPA.com/spring. Combat cabin fever and make it a weekend in Franklin County. Download Flat Ben at DoDineStayPA.com or ExploreFranklinCountyPA.com and follow Flat Ben's exploits on Facebook.com/FCVBen or Twitter.com/FCVB.
The Franklin County Visitors Bureau invites all to explore Franklin County PA and enjoy the history, arts, recreation, natural beauty, fresh foods and warm hospitality of communities like Chambersburg, Greencastle, Mercersburg, Shippensburg, and Waynesboro. Franklin County PA is located just north of the Mason Dixon Line and an easy drive to Washington DC, Philadelphia, and Pittsburgh. Discover more....plan your visit at ExploreFranklinCountyPA.com or by contacting 866.646.8060.