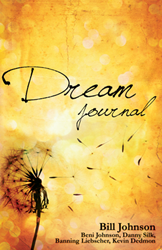 Two of the most common and biblical—that we tend to miss—are visions and dreams.
Shippensburg, PA (PRWEB) February 28, 2015
In the Old Testament, one of the signs that someone was filled with the Spirit was their ability to dream, and in turn, interpret that dream. Consider the fact that people spend a significant portion of life sleeping. Yet, even as they sleep, their hearts and spirits are awake – they are still receiving. Every moment that a person is sleeping is a potential opportunity for God to be speaking directly to them. Whether awake or asleep, He wants to communicate with His people. He wants to reveal things to their hearts. He wants to open their eyes in a greater way — to see the unseen. Two of the most common and biblical ways God speaks—and that we tend to miss—are in visions and dreams.
Dreams and visions are important parts of a person's inheritance as a child of God filled with the Holy Spirit. Whether they are dreams in the night or visions birthed in one's heart as they co-labor with God while they're awake, it's important to record and remember the important revelations being received. The purpose for this journal is to provide a place to record revelations and dreams from quiet time with God.
The authors encourage their audience to posture their hearts in a place of expectation to hear from Heaven and prepare to receive and record all that God wants to speak. By using the "Dream Journal" readers will receive daily inspirational quotes from Bill and Beni Johnson, Danny Silk, and other leaders of Bethel Church, encouraging the discovery of their ability to hear God's voice and live a supernatural lifestyle.
This journal is not an exhaustive resource, providing different biblical strategies on dream interpretation. There are other materials and teachings available to provide instruction in those subjects. Rather, before beginning to receive interpretation and learning some of the practical ways to understand symbols, images, visions, pictures, and other such dream language, the authors encourage the importance of beginning a personal practice of writing down dreams and visions.
Interviews, review copies and giveaway copies are available upon request.
# # # # # #
Destiny Image, located in Shippensburg, Pa, was founded in 1983 by Pastor Don Nori, Sr. It seeks to accurately represent authors who have a call to share God's present word to His people and to make these authors easily accessible to the Christian body around the world in every form of media possible.
FOR PRESS INQUIRIES, INTERVIEWS AND REVIEW COPIES:
Brad Herman
(717) 532-3040 x172
bherman(at)norimediagroup.com