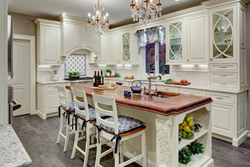 Traditional kitchen touches were added throughout the space to create an English country style aesthetic that is consistent with the rest of the home
Wayne, NJ (PRWEB) March 04, 2015
Modiani Kitchens, the Englewood, NJ based kitchen remodeling company, has completed a traditional kitchen renovation in Wayne, NJ. The project, which was an English country style kitchen, was lead by designer Bernard Kim. A refrigerator explosion had left significant damage in the kitchen of the Wayne, NJ home, necessitating a kitchen renovation. The homeowner tasked Kim with designing a kitchen that had superior functionality to the original kitchen, and that matched the traditional style of the rest of the home.
To address the functionality issue, the stovetop range was moved out of the kitchen island where it had previously been located and was instead placed between the paths of the existing sink and the refrigerator. The new location of the range is more convenient for cooking and follows the golden triangle rule of the placement of the sink, refrigerator, and cooktop for the most efficiency for the chef. Moving the cooktop also added the important benefit of ventilation. When this particular cooktop was located within the island, there was no hood over it and therefore, ventilation was difficult if existent. In place of the cooktop on the island, a second sink was added, boosting efficiency overall.
Traditional kitchen touches were added throughout the space to create an English country style aesthetic that is consistent with the rest of the home, which is characterized by detailed molding and decorative touches. To achieve the serene and homey feel characteristic of traditional kitchens, brushed paint on maple wood finish was used throughout, resulting in a yellow tone that works to create an overall warmth in the space. Enkeboll Corbels and pilasters were used to accent the space and to bring in the ornate and delicate detail that the homeowner had in the rest of the home. An 2.5 inch Iroko wood island countertop also adds a touch of natural warmth that is reminiscent of traditional kitchens throughout the decades. A satin nickel finish was used on the hardware throughout the space.
Of note, the matte finish tile in the kitchen was custom designed by the lead designer on the project, Bernard Kim.
Specific challenges of the project included defining the best appliance configuration and coordinating with a team of outside professionals who were working to remedy the damage caused by the refrigerator explosion in the space. Appliances used in the finished kitchen include a Thermador 36" rangeotp, a Thermador 18" freezer and 30" refrigerator combination, a Thermador 30" microwave, a Thermador 30" single wall oven, and a U-Line 24" wine cooler that was integrated into the island.
Modiani Kitchens is a New Jersey based kitchen cabinet and kitchen design company that specializes in both modern and traditional kitchen cabinetry and design.