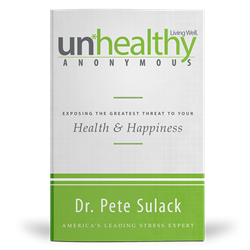 A genetic predisposition to certain diseases does not mean you are certain to suffer from those diseases.
Shippensburg, PA (PRWEB) June 30, 2015
America is in a health crisis. Today, 4 out of 5 Americans will be affected by cardiovascular disease, cancer, autism, dementia, auto-immune deficiencies, or obesity. Why?
The answer is simple and is at the core of every disease and dysfunction—stress.
Dr. Pete Sulack, America's Leading Stress Expert, has successfully treated over one million patients and, for the first time ever, gives readers and followers 12 simple steps that will put them on the road to a happier and healthier life.
No fad diets, no extreme exercise programs, and no magic pills.
This book provides proven methods to discover what a body needs to function at peak efficiency, simple instructions to repair what may be out of sync, easy steps to recapture health and live a richer, fuller life with unlimited support that will sustain the results achieved.
No matter where a reader is starting from, they can be on the road to revolutionizing their life through these 12 steps. "Unhealthy Anonymous" is the "go to" guide to the happy, healthy life people have always wanted!
INTERVIEWS, REVIEW COPIES and GIVEAWAY COPIES are AVAILABLE UPON REQUEST.
Dr. Pete Sulack is the founder and majority owner of one of the largest clinics in North America. He has served more than 1,000,000 patients over the last 13 years, validating his unique approach to health and wellness. Dr. Pete actively treats patients traveling from around the world seeking his services. His studies on the effects of stress, coupled with testimonials from patients and attention in medical communities have garnered him the title of "America's Leading Stress Expert." He is a highly sought-after teacher, lecturer, and author.
Destiny Image, located in Shippensburg, Pa, was founded in 1983 by Pastor Don Nori, Sr. It seeks to accurately represent authors who have a call to share God's present word to His people and to make these authors easily accessible to the Christian body around the world in every form of media possible.
FOR PRESS INQUIRIES, INTERVIEWS AND REVIEW COPIES:
Brad Herman
(717) 532-3040 x172
bherman(at)norimediagroup(dot)com