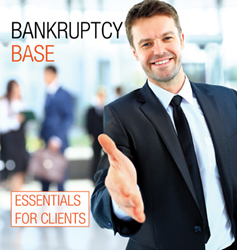 (PRWEB) February 28, 2015
The new DVD video is a 22 minute presentation with the essential information that bankruptcy clients need before making a crucial decision in their financial life.
When a bankruptcy client approaches a lawyer, the attorney must efficiently and thoroughly explain how bankruptcy works and give a rundown of a series of uncommon, but potentially adverse events. Creator David Sandy stated, "I found that about 75% of every bankruptcy presentation consisted of the same basic information. In addition, clients would frequently forget I told them something could happen and I thought it would be good to have a hard record. I searched for a compact and professional DVD that I could just give to my clients. After, I couldn't find one and found several attorneys searching for the same thing, I decided to create one for myself and for sale to other attorneys to recoup the cost." Anticipated uses of the DVD include having the client watch it before or after the attorney consult, using it as a marketing freebie for submitting information for lead generation efforts, and making the general process run smoother by reinforcing client responsibilities and creating a record of at least some of the potential adverse effects that clients frequently forget being told about.
Bankruptcy Base employs a unique pricing structure where lawyers can purchase copies in quantity for as low as $5 per copy, which should enable them to just give a copy to their client. Creator David Sandy stated that, "In my personal experience and that of many practitioners I've talked too, I've found that, while aids like this might be useful at the typical price of several hundred dollars, retrieving the copy from the client becomes a serious hassle. I think that the recent revolution in DVD duplication economics offers the opportunity to transform the distribution model for this sort of thing."
Bankruptcy Base should make a great handout, as well as an integral part of any bankruptcy consult. The video is available via http://www.bankruptcybase.com, where lawyers can order just one DVD or greater quantities at substantial discounts. David Sandy also offers discounts to customers who are interested in subscription pricing.