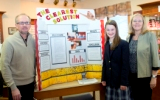 Lemont, IL (PRWEB) February 28, 2015
Over the past few months, Everest Academy 5th-8th grade students have been working hard preparing for the annual Science Fair. Their preparations paid off as they impressed the panel of judges who visited Everest Academy and represented careers in science, engineering, technology, education, and speech. Projects named Musical Bottles, Powerful Peas, What a Gas, Parieldola, Let There Be Light, and many other intriguing titles were presented to the judges who ultimately chose the following first place winners: 5th grade – Breaking the Tension, 6th grade – Freaky Friction, 7th grade – Conductivity Porclivity, and 8th grade – The Clearest Solution.
The Clearest Solution was the name of the winning science fair project for the eighth grade. Hannah, the mastermind behind the winning 8th grade project, is a dedicated fan of science. Being a contact lens wearer, Hannah decided to seek out which contact lens cleaning solution on the market worked the best in providing the clearest contacts. In setting up her project, she reached out for supplies to Homer Township Vision Center, who provided Hannah with contacts and solutions for her experiment. After placing first, Hannah presented and discussed her project with Homer Township Vision Center to not only thank them for their support and the supplies, but also to prepare for the regional competition.
Everest Academy is an independent Roman Catholic school in Lemont educating children from preschool through eighth grade. The teachers and staff are dedicated to forming the whole child by providing the highest level of academics, by building strong character, and by preparing generous leaders ready to serve the community. If you would like to learn more about Everest Academy's unique approach to education, please contact Katherine Wollenberg at 630-243-1995 or visit http://www.everestadvantage.org.