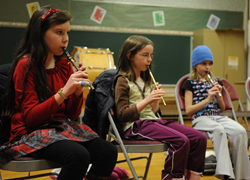 Chief O'Neill's and the Irish Music School of Chicago provide St. Patrick's Day fun for the whole family.
Chicago, IL (PRWEB) February 28, 2015
The Irish Music School of Chicago and Chief O'Neill's Restaurant & Pub join together to provide family-friendly events for St. Patrick's Day celebration during the Little Leprechaun Family Breakfast Feast from 9am-11:30am.
Features include:
-Breakfast Buffet for adults and kids featuring Irish and American breakfast favorites
-Live traditional Irish music featuring Irish Music School faculty
-Free tin whistle lesson with the Irish Music School of Chicago at 10:30am for all kids ages 6 – 13 (pre-registration required)
-Face painting and balloon animals
-St. Patrick look-a-like contest for kids, 1pm (Grand prize: $250 Chief O'Neill's gift certificate)
-An appearance by St. Patrick himself at 11am!
Breakfast Food Service, Adults $12.00, Kids 10 and under $6.
9:00am – 11:30am.
Breakfast Buffet Selections include: Bacon, Sausage, Corned Beef Hash, French Toast, Waffles, Irish Cheddar Scrambled Eggs, Breakfast Potato Casserole, Eggs Benedict, Scrambled Eggs, Breads, Fresh Fruit platters and more.
ABOUT THE IRISH MUSIC SCHOOL OF CHICAGO: The Irish Music School of Chicago teaches children and adults as it has been done for generations in Ireland and Irish communities around the world: as a collaboration between Irish musicians, teachers, students and the community itself. It was founded in 2003 by Chicago-bred and internationally acclaimed Irish fiddler Seán Cleland. As a young Irish-American determined to play traditional Irish music, Seán made repeated trips to Ireland. Back at home, he immersed himself in the vibrant Chicago Irish Music community, literally sitting at the feet of the mostly immigrant Irish musicians.
Recognizing the need for a school of Irish traditional music, he envisioned a place that could provide a unifying presence for Irish music in Chicago, bringing younger generations of student Irish musicians into contact with the older generation of Irish musicians.
As a not-for-profit organization, the Irish Music School is committed to maintaining the strong tradition of Irish music, song and dance, to involve more people in the community of Irish music, and ensure that this type of music does not disappear in Chicago and the United States.