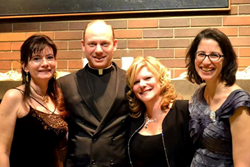 Dr. Kim Sekulich, principal of Everest Academy, commented, "Every detail of the evening was perfect!"
Lemont, IL (PRWEB) February 28, 2015
Everest Academy of Lemont recently held its annual dinner benefit at the Hyatt Lodge in Oak Brook, IL. With a full room and many auction items beautifully displayed, the evening was a festive celebration of many wonderful families whose children attend the school as well as friends and others who believe in the mission of the school - educating and forming strong Christian leaders for tomorrow.
The Everest Academy school motto Semper Altius or Always Higher is applicable to many areas of education and certainly was applied to this fundraising event. The food was outstanding and the entertainment was taken to great heights. It included dueling pianos from Howl at the Moon, the magical appearance of a live tiger, and a video of happiness and joy expressed by the dancing of students, faculty and staff at Everest Academy.
Dr. Kim Sekulich, principal of Everest Academy, shared, "Every detail of the evening was perfect. Families and friends came together in a spirit of love and care for each other. Our wonderful committee chairs and members devoted countless hours to the success of the Benefit. Their dedication is an inspiration. Thank you for to all who attended and contributed to the success of the evening. Your generosity and your wonderful support are the reasons our school is such a great school."
Everest Academy is an independent Roman Catholic school in Lemont educating children from preschool through eighth grade. The teachers and staff are dedicated to forming the whole child by providing the highest level of academics, by building strong character, and by preparing generous leaders ready to serve the community. If you would like to learn more about Everest Academy's unique approach to education, please contact Katherine Wollenberg at 630-243-1995 or visit http://www.everestadvantage.org.