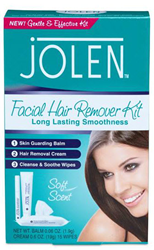 Our new three-step Jolen Facial Hair Remover Kit protects the skin from irritation to provide a pleasant experience. Everything a woman needs in a facial hair remover product is included in this kit."
NEW YORK, NY (PRWEB) March 03, 2015
Women have trusted the Jolen brand to deliver superior results in bleaching facial hair for over 50 years, making it the #1 bleach in the world. Now Jolen is using its expertise to introduce the new Jolen Facial Hair Remover Kit, a facial hair removal system that is superior to anything else in the market. Formulated with a unique soft scent technology, the new Jolen Facial Hair Remover Kit is the only facial hair removal product to include an easy-to-use, three-part system consisting of a Skin Guarding Balm for pre- and post-skin protection, Hair Removal Cream and Cleanse & Soothe Wipes.
•The Skin Guarding Balm is used before hair removal to condition and protect skin, preventing irritation and redness. This balm can also be used after hair removal and cleansing to moisturize and smooth skin.
•The Hair Removal Cream quickly, gently and effectively removes unwanted hair on the upper lip, chin and cheeks.
•The Cleanse & Soothe Wipes wipe away cream and hair while soothing and conditioning the skin. These wipes eliminate the need to ruin washcloths or fuss with messy tissues or cotton balls.
Dermatologist tested for safety, and perfect for all facial hair types, the new Jolen Facial Hair Remover Kit delivers smooth, silky, hair-free skin in as little as eight minutes.
"Consumers' main complaint about facial hair removers is the irritated, red skin they cause and the horrible scent that can stay with you for hours," explains Evelyn Kossak, President of Jolen Inc. "Our new three-step Jolen Facial Hair Remover Kit protects the skin from irritation to provide a pleasant experience. Everything a woman needs in a facial hair remover product is included in this kit."
For generations, Jolen Creme Bleach has been the trusted brand passed down from mother to daughter and friend-to-friend. "The new Jolen Facial Hair Remover Kit continues our mission as a company: to help women and young girls maximize their natural beauty by empowering them with confidence," adds Kossak.
The new Jolen Facial Hair Remover Kit will be rolling out in select stores like ULTA and online at Walgreens.com and drugstore.com for the suggested retail price of $11.99.
To learn more about the Jolen Facial Hair Remover Kit and Jolen Creme Bleach formulas, visit http://www.Jolenbeauty.com and follow the brand on social media including the newly launched Pinterest page for fun offers and beauty tips from celebrity makeup artist Belinda Moss: Facebook (http://www.Facebook.com/Jolen) and Pinterest (http://www.pinterest.com/JolenBeauty).