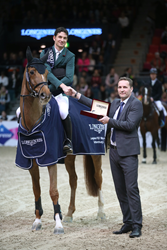 "I'm not exactly sure which horse I will take (to Las Vegas), but Paille would be my first choice"
(PRWEB UK) 1 March 2015
Olympic champion, Switzerland's Steve Guerdat, produced a brilliant performance from the 12-year-old mare, Albfuehren's Paille, to record his second victory of the Longines FEI World Cup™ Jumping 2014/2015 Western European League at the last leg in Gothenburg, Sweden today. In a desperate battle for those chasing the last remaining points that would earn them a place at the Longines Final in Las Vegas, USA in six weeks' time, it was Sweden's Rolf-Goran Bengtsson who lined up second with Casall Ask while Germany's Marco Kutscher clinched third with Cornet's Cristallo ahead of The Netherlands' Jur Vrieling and Zirocco Blue NOP in fourth place.
Guerdat had no fears about qualification when earning his place in the 13-horse jump-off, as he was already lying third on the leaderboard as the day began. However his result today has boosted him to the top of the Western European League table, demoting young Irishman, Bertram Allen, to second place.
Found the key
Course designer, Spain's Santiago Varela, set them a tough first track, but 13 of the 39 starters found the key.
The triple combination took its toll, as did the oxer at fence eight and the vertical at fence 11 which was three from home. The final two fences however proved particularly interesting as riders had to negotiate the Longines double, a 1.80m-wide triple bar followed by a vertical, and then take a careful left-bending line to the final oxer which often came up on a difficult stride.
It was Italy's Francesco Franco who led the way against the clock with Banca Popolare Bari Cassandra, but it was third to go, Belgium's Judy-Ann Melchior and her lovely grey mare, As Cold as Ice Z, who set the early target with the calmest of clear rounds in 47.62 seconds. This time always looked beatable, but Varela's jump-off track was inviting to those prepared to take more risk, and Switzerland's Pius Schwizer was almost two seconds faster when faulting at the very last with Toulago when next into the ring.
Olympic silver medallist, The Netherlands' Gerco Schroder, looked set to go well out in front until also lowering the final fence with Glock's London, but Guerdat and Paille made no mistake. There's always excitement in the air when the Swiss rider sets off against the clock, and this 12-year-old chestnut mare seems to relish the pressure, lowering her head as she picks up speed and galloping home to really put it up to the rest of them when breaking the beam in 43.13 seconds.
Couldn't better that
And try as they would, the remaining seven couldn't better that. Home-side hero, Rolf-Goran Bengtsson, came closest when next to go with his great stallion Casall Ask who crossed the line in 43.49, and although Kutscher's turn to the penultimate oxer was superb, the talented 12-year-old Cristallo was fractionally slower when clear in 43.89 seconds.
Vrieling also left all the fences intact as did Sweden's Henrik von Eckermann (Cantinero), but with their times not challenging for the lead, so now only last man in, Kevin Staut from France, looked like threatening Guerdat's supremacy. His great 16-year-old mare, Silvana, has competed at five FEI World Cup™ Jumping finals during her long and sparkling career, but when the penultimate oxer hit the floor they would have to settle for seventh place today.
After another extraordinary Longines season however, Staut sits third on the Western European League table which he has continuously dominated in recent years and is well on the road to Las Vegas.
Winning horse
Talking about his winning horse, Guerdat said this evening, "she arrived at my stables 10 months ago having already jumped quite successfully with another Swiss rider, Alexandra Fricker. It took a while to get to know her, but she jumped clear in her very first Grand Prix and this is her first very big win with me".
Looking ahead to Las Vegas, he said, "I'm not exactly sure which horse I will take, but Paille would be my first choice because she's been very good during the entire indoor season and I'd like to save Nino for the Championships this year. Nino would be my second choice for Las Vegas though".
His Longines season has certainly been a spectacular one. From nine starts he earned a massive 77 points, but it wasn't all plain sailing as he only collected points from five events beginning with third place in Oslo (NOR), victory in Helsinki (FIN), third again in Stuttgart (GER) - all with Nino - a 10th place with Paille in Verona (ITA) and then his win today with the same chestnut mare.
Make the cut
A total of 18 riders qualify for the final from the Western European League, and one to lose out today was The Netherlands' Harrie Smolders who collected 56 points on the US circuit but needed to add some Western European League points today if he was to make the cut.
As defending champion, Germany's Daniel Deusser is automatically qualified even though he has finished in tenth place, while the results for America's Lucy Davis and Australia's Edwina Tops-Alexander, who finished fourth and sixth respectively in the WEL series, are transferred to their own regional leagues. Bengtsson today confirmed that he will not travel, so that opens the door of opportunity for Belgium's Jos Verlooy who currently lies in 24th position.