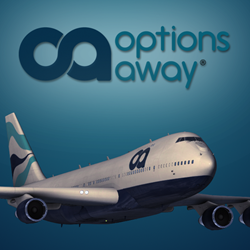 "Options Away is the only company that allows consumers to lock-in the price of their flights while they finalize their travel plans"
Chicago, IL (PRWEB) March 03, 2015
Options Away, the first company that empowers consumers to lock-in flight prices, announced a $3.5 million round of Series A funding led by Chicago-based OCA Ventures and joined by Thayer Ventures and Chicago's Pritzker Group Venture Capital.
The financing will be used to further scale Options Away's solution via even more aggressive sales, marketing and partnering, including expanding into international markets - and to further build out and refine its proprietary technology platform.
CEO and Founder Robert Brown said, "Our airfare "hold" product, has put Options Away at the forefront of the exciting airline big-data and traveler engagement space. While we have already partnered with some of the biggest names in travel, this funding, coupled with the reach of our new investment partners, will allow us to further leverage our core B2B/API solutions for the benefit of new global travel partners".
Ian Drury, General Partner at OCA Ventures, added, "Options Away enables travel companies the ability to provide consumers with a valuable service – locking-in the price of a flight. This enables the provider to engage with customers throughout the hold period, building stickiness as well as the opportunity to sell ancillary products and services. The Options Away solution integrates seamlessly into the complex and competitive travel technology ecosystem, and has been adopted by an impressive set of leading travel partners in a very short period of time. We are very excited to partner with the Options Away management team, Thayer Ventures, Pritzker Group Venture Capital and an impressive group of angels to launch the 'next big thing' in online travel".
Existing investors who participated in the round include a group of seasoned European travel industry entrepreneurs led by Iglu.com chairman Martyn Williams. Members include Andy Phillips, former CEO of Priceline International, and Richard Downs, CEO of Iglu.com. New strategic investors include Don Carty, Chairman of Virgin America and former Chairman and CEO of AMR (the parent company of American Airlines). Also new to this round is Howard Tullman, CEO of 1871, the largest entrepreneurial digital startup hub in the US.
Joining existing Board Members Heidi Brown, Robert Brown and Martyn Williams will be Peter Ianello, Co-founder and General Partner of OCA Ventures, and former President and CEO of SBC Capital Markets and Jeff Jackson, Managing Director at Thayer Ventures and former CFO of Sabre Holdings. Options Away also announced the appointment of Adam Goldstein, CEO of Hipmunk, as an advisor.
Recently Options Away won the prestigious PhoCusWright People's Choice Award at the 2014 Travel Distribution Summit. They also received a 2014 Chicago Innovation Award and hold the Eye for Travel Innovation Award from 2013.
Options Away was founded in 2012 by Robert and Heidi Brown, who act as CEO and CMO respectively. The management team is rounded out by Chief Product Officer and ex-Orbitz founding member Michael Harbin. For more information, visit http://www.optionsaway.com or follow on Twitter @optionsaway