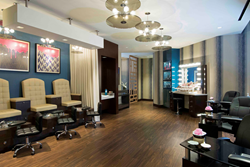 "FarmHouse Fresh®...helped create the all-new spa that features FarmHouse Fresh® products combined with an array of fantastic treatment names...which are sure to 'stir the soul' and bring out everyone's inner rock star."
Frisco, TX (PRWEB) March 02, 2015
FarmHouse Fresh® announces that it has partnered with Seminole Hard Rock Hotel & Casino Tampa's Rock Spa® to offer a number of FarmHouse Fresh®-branded bath, body, nail and add-on services to help relax and rejuvenate the face and body, in addition to retailing a number of prominently-displayed FarmHouse Fresh® products at the spa.
The recently renovated 5,782 square-foot Rock Spa®, which reopened in December 2014, embodies "More Zeppelin than Zen. It is the place to rock one's body and soul." Rock Spa® features: an all-new hair and nail salon; a couples shower/massage room with large multi-body spray/jetted shower for two, double massage beds and a "wet room" with full height marble walls, mirror and glass mosaic tile that will accommodate specialty treatments; lavish new men's and women's locker rooms; and improved pool area and steam rooms. The Rock Spa® offers Hard Rock's recently introduced "Rhythm & Motion," the world's first fully immersive music-centric spa menu utilizing amplified vibrations, pressures and patterns as the foundation of its treatments. This groundbreaking experience will take guests on a rhythmic massage journey.
Shannon McLinden, CEO of FarmHouse Fresh®, explains, "This has been one of the most creative projects ever for FarmHouse Fresh® because we helped create the all-new spa that features FarmHouse Fresh® products combined with an array of fantastic treatment names based on classic rock n'roll songs which are sure to 'stir the soul' and bring out everyone's inner rock star."
Facial treatments include the memorable "Forever Young" and "Abracadabra" firm and lift facials, which begin with a green tea and coconut milk wash cleanse, followed by a red mud volcanic pumice exfoliation and a steamed compress that infuses skin with nourishing extracts, and completed with a peptide moisturizer and eye serum application. Men can enjoy the "Poker Face Gentleman's Facial" that includes a steaming whole milk wrap, super fine sand exfoliation using red Montmorillonite clay, a warming cactus tightening gel, and a firming peptide moisturizer "for a vibrant complexion that's ready for an all-night card game."
Body treatments include: "Sexy Back" back facial which involves a light dry brush followed by a massage with warm beach stones, exfoliation using pure can sugar, plus a rich orange blossom butter to hydrate and seal in moisture.
Massage treatments include: "We Will Rock You," a warm stone therapy massage for couples where warmed stones are carefully place to assist muscle relaxation and release through heat transfer.
Pedi services include: "Be Good to Yourself" signature manicure that includes a warm hydrating soak, exfoliation with a fine grain scrub, mask, finished by a forearm massage that melts away stress while deeply nourishing skin; and "Walk This Way" signature pedicure that includes a warmed aromatic foot soak to soften and hydrate layers of dry skin, exfoliation with a fine grained scrub while polishing off dead skin, a nutrient-rich mask to hydrate with antioxidants, finished by a lower leg massage with a luxurious cream to relax and soothe leg muscles while it tones and hydrates.
A wide array of FarmHouse Fresh's bath, body and clinical skincare products are used throughout these services. Each of the FarmHouse Fresh® products uses up to 99.6% natural ingredients and is free of parabens, sulfates, and mineral oil, with many products being vegan and gluten-free.
To make reservations at the Rock Spa®, please visit online or call 813-627-7625.
For information about FarmHouse Fresh® products, call 888-773-9626 or visit online. FarmHouse Fresh® is an award-winning line of professional bath, body and facial care products repeatedly voted by professionals as one of this country's favorite bodycare lines. The products can be purchased at top destination spas, resorts, and day spas throughout the U.S., Canada, Caribbean and Middle East.
About Seminole Hard Rock Hotel & Casino Tampa
Seminole Hard Rock Hotel & Casino Tampa is the premier entertainment destination of Central Florida and the place where celebrities love to stay and play. Owned and operated by the Seminole Tribe of Florida, this electrifying casino destination is one of the most successful and largest casinos in the world and is located in Tampa, Florida off of I-4 at North Orient Road and Hillsborough Avenue, between I-75 and I-275, about 10 minutes east of downtown Tampa. Featuring high stakes table games along with thousands of the hottest slot machines, the rock star amenities at this AAA Four Diamond rated hotel and casino range from seven award-winning Zagat-rated restaurants, a newly renovated Rock Spa® and VIP services galore. The casino offers a valet service or free, self-parking. For more information, please call 866-502-PLAY or visit us online and via Facebook, Twitter, Instagram and Pinterest.