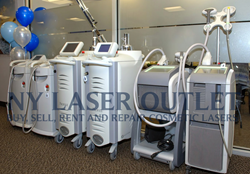 The return on investment increases exponentially when you buy a quality refurbished used cosmetic laser
NEW YORK, NY (PRWEB) March 04, 2015
NY Laser Outlet is helping doctors overcome some of the challenges caused by the Affordable Care Act. With reimbursements from insurance dropping and expenses increasing, cosmetic procedures have become a valuable part of running a successful medical practice.
In contrast to medical procedures, which are paid by insurance, aesthetic procedures are paid the same day in cash. People are willing to pay a significant amount of money for cosmetic work. More and more doctors are looking to capitalize on this cash business as their incomes have come under attack by the change in health care laws.
Previously, Doctors needed to invest about $150,000 to buy an aesthetic laser. With the lasers offered by NY Laser Outlet, Doctors can now buy used cosmetic lasers for less than half.
Recently, NY Laser Outlet rolled out their financing program. Now Doctors and Spa owners can finance the equipment. Additionally, they have a leasing option. Instead of spending hundreds of thousands on an aesthetic laser, you can lease one with no money down. This will allow the profits generated by the treatments to make the lease payments.
"Doctors are thrilled with they come to our New York showroom. Many business owners want to add cosmetics to their practice, they just don't want to spend over $100,000 per laser machine. The lasers we have for sale has solved this obstacle. Doctors can walk out with 3 machines for the price of 1," says Ari Marom, Director of Sale at NY Laser Outlet.
Lisa Fendell, who has managed numerous medical offices in the past 15 years is very impressed.
"NY Laser Outlet has established themselves in New York as the cosmetic laser specialists. The value delivered to the doctors they work with is tremendous. The return on investment increases exponentially when you buy a quality refurbished used cosmetic laser," said Fendell after their annual event last month.
NY Laser Outlet has a showroom located in midtown Manhattan filled with fully refurbished medical equipment. Half the floor in the 7th Avenue showroom is dedicated repair shop where they service and repair lasers. "We have built New York Doctors a one-stop-shop for all their cosmetic, medical and aesthetic laser needs" said Ari Marom.
About NY Laser Outlet
NY Laser Outlet specializes in Buying, selling, renting and repairing cosmetic lasers. They are located in midtown Manhattan and deal with clients both nationally and internationally. Their clients range from plastic surgeons to medical spa owners. They focus on helping increase the profitability of medical offices by increasing the cosmetic procedures they offer.