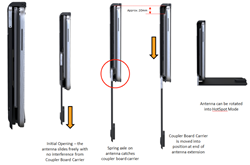 Our technology allows antennas to be installed virtually anywhere on a small device without sacrificing performance or causing negative interaction with the surrounding environment.
Louisville, Colorado (PRWEB) March 04, 2015
BluFlux RF Technologies, a provider of RF, antenna and electromagnetic design, engineering and testing services that helps companies bring advanced connected devices to market, announced today its receipt of a patent for its innovative cellphone case that increases antenna signal and reduces the radiation users receive from cellphone use.
The human head and hands block or absorb as much as 90 percent of the energy radiated by and transmitted to a cellphone or contribute to a 'detuning' effect of the cellphone antennas, resulting in a loss of power transmitted by the phone. BluFlux' patented technology fixes that problem by causing the energy from a phone to be radiated from a different point in space than the phone itself. By 'changing the phase center' of the antenna, the energy transmitted to the phone from a cell tower no longer has to compete with a user's head and hands. Instead, it is picked up by BluFlux' external antenna and routed to the internal antenna of the phone, resulting in an increase of two bars of signal strength.
"Our team has worked very hard on this technology and we are incredibly excited to receive the patent," said BluFlux president and founder, Ben Wilmhoff. "While the immediate benefits of this technology are for handheld mobile devices, there is huge potential application to other industries like connected car technologies and consumer and industrial Internet of Things. Internet of Things devices are often small and the space reserved for antennas is a tiny fraction of what is really needed for efficient performance. Our technology allows antennas to be installed virtually anywhere on a small device without sacrificing performance or causing negative interaction with the surrounding environment."
BluFlux developed the technology for integration into mobile device protective cases. It is the only signal strength enhancement product built into protective phone cases that measurably boosts RF signals - or adds signal bars - to and from a phone. The technology provides a simple flip-out antenna, giving the user control over when a signal boost is needed. With the antenna deployed, the user can anticipate a boost of two bars. The antenna folds back into the protective case when not in use, returning the cellphone to its factory condition.
The patent (US 20150011273 A1) is the first in a group of patents related to the core technology. Also disclosed in the patent is an app to help users with recurring problems in signal strength. For example, the user's normal route to and from work might have a dead spot where calls are frequently dropped. Over time, the app detects these zones and can alert the user to deploy the booster antenna before they enter the dead zone. The app is also designed to share information about dead zones with other users of the technology, creating a powerful crowd-sourced database of cellphone signal strength.
Images of and more information about the patent are available at: http://bluflux.com/bluflux-rf-technologies-receives-patent-for-cellphone-case-that-boosts-antenna-signal
About BluFlux:
BluFlux provides hardware developers with proven RF, antenna and electromagnetic design, engineering, testing and measurement services that reduce the time and cost of bringing the world's most advanced wireless and connected devices to market. BluFlux offers expertise in commercial markets including mobile and wireless, M2M, Internet of Things and wearable devices, automotive and connected car technology, industrial sectors including safety, security, sensors and communications devices, and public safety including communications, data, sensors, and navigation on Band 14 LTE / FirstNet networks and legacy nets. Together our team and in-house CTIA Authorized Testing Lab (CATL - pending) make BluFlux the leading strategic partner to streamline the development of wireless and connected devices. Learn more about BluFlux at http://bluflux.com and connect with us on Twitter https://twitter.com/blufluxrf and LinkedIn https://www.linkedin.com/company/bluflux-rf-technologies.