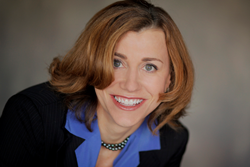 We are excited to hire a leader that shares ECCO Select's vision and believes in the value offered to the customers that we serve.
Kansas City, Missouri (PRWEB) March 03, 2015
ECCO Select, a high growth technology service company, announced today that Christine Ricci is joining the company as Chief Marketing Officer and Vice President of Client Services. Ms. Ricci will lead overall marketing efforts to promote ECCO Select's premier IT services and will ensure optimal customer service delivery.
"We are excited to hire a leader that shares our vision and believes in the value offered to the customers that we serve. Christine will be instrumental in further developing the brand strategy, in addition to growing our partnerships with our customers," said Elizabeth DeZeeuw, Chief Operating Officer, ECCO Select. "A highly regarded strategic marketing and customer service executive, Christine brings a wealth of knowledge and IT experience from top brands, including HCA, Cerner, Sprint and B. E. Smith."
Prior to joining ECCO Select, Ricci held various leadership positions that focused on strategy, business development, brand image and client services, resulting in significant revenue growth, market share increases, reduced cost and top ranked customer satisfaction. Ricci's unique background, proven expertise, and diverse experience make her the ideal person to continue to drive ECCO Select's brand growth and momentum.
"As I learn about the transformation taking place within ECCO Select, I am honored to have the opportunity to be part of this high performance team," said Christine Ricci. "I very much look forward to playing a key role as the firm further develops and executes its growth strategy."
The recipient of numerous marketing and leadership awards, Ricci earned a Master of Business Administration degree and a Bachelor of Science degree from the University of Louisville, in Louisville, Kentucky.
About ECCO Select:
ECCO Select is a women-owned, minority-owned, technology company specializing in IT professional services and management consulting. ECCO Select is a provider of IT solutions, managed application development, program and project management, IT infrastructure and security, and integration and operations for a wide-range of IT functions. Offices are located in Kansas City, St. Louis, and Washington, D. C. For more information, visit ECCOSelect.com, call (816) 960-3800 or email Ms. Ricci directly at cricci(at)ECCOSelect(dot)com.