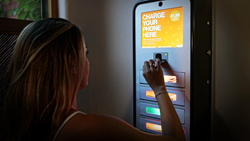 At Brightbox we never make a data connection to a mobile device, we vigilantly protect user data privacy & we provide corporate security & product performance to the highest standard of excellence.
New York, NY (PRWEB) March 02, 2015
Brightbox, Inc. (http://www.brightboxcharge.com), the leading global platform provider of secure, intelligent and connected mobile device charging kiosks, is pleased to be a sponsor of the 2015 ExhibitorLive! (http://www.exhibitoronline.com), the Smart Ideas Conference for Exhibit & Event Marketers, at the Mandalay Bay Convention Center in Las Vegas, from March 1st to 5th in 2015.
Brightbox provides mobile freedom, enabling consumers and brands of today and tomorrow, to live life charged and connected. It facilitates trust in public place amenity charging solutions, and provides a great lifestyle product and experience that is a rich opportunity for engagement between connected people, spaces and brands.
"Leading event marketers and companies make a strong brand statement when they choose a secure mobile device charging product and platform," said Billy Gridley, CEO of Brightbox. "Leading brands naturally seek and find the best and most trustworthy solution available: this is just good business common sense."
"The Brightbox® Mark3 Product Platform is a secure, safe, trusted, PCI compliant and UL certified mobile device charging solution that is made in the USA. UL (Underwriters Laboratories) is a global independent company that helps safeguard people, products and places," said Billy Gridley. "Brightbox users and sponsors demand and deserve ease of use, universal accessibility, speed, security, privacy, safety and reliability. At Brightbox we never make a data connection to a mobile device, we vigilantly protect user data privacy and we provide corporate security and product performance to the highest standard of excellence. Users are free to interact with (or not) and to opt (or not) into our product offers and loyalty programs. The Brightbox solution is complete, with intelligent remote support features, 24/7 connected service excellence, and a powerful, interactive, service, branding and media platform."
Brightbox, a New York-based B2B kiosk technology company, is the global leader in developing and deploying secure charging stations for on-the-go people with mobile devices, including cell phones, phablets, backup chargers and batteries. The Brightbox® Mark3 mobile charging platform enables consumers to continue to communicate, navigate, search, shop, pay and play. Companies can offer device charging via Brightbox as either a complimentary or paid amenity.
"With the amount of convention guests our resort welcomes and emerging technology that they demand, we were in search of a mobile-charging product to further our offerings of amenities, " said Matthew Resnick, Director of Guest relations at Mandalay Bay. "Brightbox was the clear leader in this field and their team was extremely responsive to our business and guest needs. The Mark3 charging stations allow our guests to charge their devices while enjoying entertainment, gaming and other offerings, knowing their property is safe and will be charged when they return."
ExhibitorLive! attendees will be able to experience Brightbox and enjoy unlimited complimentary charging sessions via kiosks available at the exhibition and at ExhibitorParty. Smart phone users simply swipe a credit/debit or complimentary card to open an available station chamber, plug in their mobile device or accessory to one of three industry standard charging cords, close the chamber and return later to swipe the same card to retrieve their charged phone.
At select events and locations, Brightbox also offers additional "key" modalities via RFID and QR card readers, which integrate into event activation and product promotion systems. Rather than offer physical, pin code or fingerprint "key" solutions that are unreliable, sub-standard solutions for discriminating brands and companies, Brightbox offers intelligent, encrypted solutions which maintain data privacy and security via its highly secure and reliable platform.
Companies and venues can leverage intimate and seamless interactions between consumers and the Brightbox charging kiosk, choosing how to project brand image via an innovative menu of content and interactivity options, for high impact and high ROI. The Mark3 features a 10" interactive touch screen, with video and slide show capabilities that provide effective delivery of direct sponsor messaging, surveys, customer acquisition, brand offers and promotions. Exclusive offers are also available via branded key or other cards and keys specifically tailored for customers, events and activations.
Brightbox is also a proud sponsor of the annual industry ExhibitorParty taking place at Light Nightclub on March 2nd. The exclusive event features a real world example of digital branding using a Brightbox in a nightclub setting. As guests walk the red carpet, they can securely recharge their phones before hitting the dance floor of the hottest club at the Mandalay Bay resort. Multiple Brightbox units will be available at the entrance, bar, and VIP club areas. During the day, show visitors can meet with the Brightbox sales team at booth 476. Brightbox charging stations are also conveniently and permanently placed at the Mandalay Bay Hotel & Casino, and other Las Vegas locations, and can be discovered via the Brightbox app.
"Brightbox charging stations are definitely one of the best amenities to have in a high profile hotel in this technology-driven market," says Pejman Tristan Parvazi, Western Region Cluster Manager, Hilton Hotels and Resorts. "The combination of convenience, style, and user friendliness, topped with great support and our not having to worry about all the security and liability issues, makes Brightbox awesome!"
About Brightbox
Brightbox® is B2B kiosk technology solutions company providing global venues and users with a best-in-class secure mobile device and accessory charging platform, for consumer, marketing, branding, sponsorship and venue interaction and engagement. Founded in 2011 and based in New York City, Brightbox delivers intelligent and innovative charging solutions and has deployed its secure charging locker platform in 4 countries and 22 states, in a variety of event and vertical markets that include hospitality, entertainment, healthcare, retail, education, transport and government.
Event customers include AOL, AdWeek, American Airlines, BBC ComicCon, CEDIA, Citibank, Coca-Cola, Detroit Grand Prix, Discovery Channel, Event Tech, FISH, Gartner, GoPuck, HBO, IBM, IMEX, InCharged, Intel, Jack Morton, Major League Baseball, Minor League Baseball, NFL Experience, Pitney Bowes, Octagon SXSW, PCMA, Smart Source, So Cool Events, Societe Generale, UBS, Verizon, and Wells Fargo.
Enterprise customers include Dream, Hilton, Hyatt, Marriott, Omni, Sheraton, Caesars, MGM, Heineken, Christie's, Rite Aid, Toys'R'Us, Westfield Malls, New York Red Bulls, Tampa Bay Rays, Time Warner Cable, Universal Studios, Baycare, Baystate Health, NY Presbyterian Hospitals, Mount Sinai Health, Orlando Health, Yale New Haven Health, American Airlines, British Airways, Columbia University, and BR CHARGE. Learn more at http://www.brightboxcharge.com and @brightboxcharge
About 2015 ExhibitorLive!
About Exhibitor Live http://www.webwire.com/ViewPressRel.asp?aId=195898#.VPKEHbPF9J0
EXHIBITORLIVE, the smart ideas conference for exhibit and event marketers, will be held March 1-5, 2015 at the Mandalay Bay Convention Center in Las Vegas. Full registration for its top-rated EXHIBITORLIVE conference and exhibition is available at http://www.exhibitorlive.com
The leader in trade show and corporate event marketing education, Exhibitor Media Group publishes the award-winning EXHIBITOR magazine, a monthly publication featuring best practices in trade show marketing.  EXHIBITOR's Learning Events include: EXHIBITORLIVE, the industry's top-rated conference and exhibition for trade show and corporate event marketing; EXHIBITORFastTrak accelerated learning conferences; and EXHIBITOR eTrak, professional online learning. Exhibitor Media Group is the founder and sponsor of CTSM (Certified Trade Show Marketer), the world's only university-affiliated professional certification program. (http://www.ExhibitorOnline.com ) Follow EXHIBITOR on Facebook, Twitter (@EXHIBITOR) and join EXHIBITOR's LinkedIn discussion group.