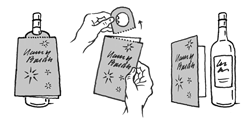 San Francisco (PRWEB) March 05, 2015
Portola Sky announces the release of their new line of Wine Bottle Greeting Cards. This new patent pending design adds a more traditional card approach when attached to a bottle of wine – creating a unique, personalized gift. The company's growing collection of greeting cards feature sentiments for a wide range of life events.
After selecting a design, simply sign one of the new Wine Bottle Greeting Cards and place it around the neck of a bottle. The gift recipient can then remove the collar and preserve the customized greeting card as a keepsake.
The new line of cards, which is available for retail, includes die-cutting and unique foil stamping designs. In addition to offering their unique cards, the company announced the following:

Customized Cards – The Portola Sky custom shop allows businesses to integrate their company identity into the card design elements, creating their own unique version to share with clients or to resell on a retail level. Free shipping is available on all custom orders.
No Envelopes – The simple design allows for an instant view of the cards and sentiment.
Made in the U.S.A. – All products are proudly produced in the U.S.A. Minimizing their environmental footprint, Portola Sky utilizes vegetable-based inks, recycled papers, while employing other eco-friendly solutions.
The new line of Wine Bottle Greeting Cards will be carried by select retailers as well as for purchase online.
About Portola Sky
Based in the San Francisco Bay Area, Portola Sky is a visual communications company, specializing in the art of ink on paper. Continually striving to bring value to the graphic arts industry, they approach every project and client with a focus on integrity and understanding. For more information on Portola Sky, please visit: http://www.portolasky.com.
Media Contact
Portola Sky
Email Address: winecards(at)portolasky(dot)com
Website: http://www.portolasky.com