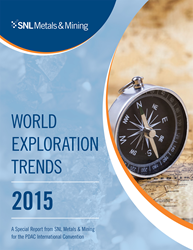 Halifax, Nova Scotia (PRWEB) March 02, 2015
The latest World Exploration Trends report from SNL Metals & Mining reveals mining companies responded to the poor market conditions with a sharp reduction in their exploration activity. The result was a 26% decline in worldwide nonferrous metals exploration budgets in 2014, compared with the previous year.
In the 25th edition of its Corporate Exploration Strategies (CES) report, SNL Metals & Mining calculated that the mining industry's total budget for nonferrous metals exploration was US$11.4 billion in 2014. This contrasts with the US$15.2 billion allocated in 2013 and the record US$21.5 billion budgeted in 2012. The steep plunge in exploration budgets was due to a combination of investor wariness of the junior sector, which made it difficult for most companies to raise funds, and a strong pullback by producing companies on capital and exploration spending to improve their margins.
SNL's 2014 exploration estimate was based on information collected from more than 3,500 mining and exploration companies worldwide, of which almost 2,000 had exploration budgets reported in the CES study. These companies (each budgeting at least US$100,000) together allocated US$10.74 billion for nonferrous exploration, which SNL estimates covers 95% of worldwide commercially-oriented nonferrous exploration spending. Adding estimates of budgets that SNL could not obtain, the 2014 worldwide total exploration budget reached US$11.36 billion.
For the full report detailing additional exploration trends, please contact Christina Twomey at ctwomey(at)snl(dot)com.
Attendees of the PDAC conference are encouraged to visit the SNL Metals & Mining booth, #115 on the main trade show floor, for a free copy of the report and additional information.
For more information, email sales(at)snl(dot)com or call +1 866 296 3743 (US & Canada); +1 646 599 8087 (Latin America); +44 20 7398 0873 (Europe, Middle East & Africa); +852 5808 1882 (Asia-Pacific); +1 800 337 900 (Australia).
About SNL
SNL is a leading provider of financial information on more than 6,500 public companies and 50,000 private companies in the business sectors critical to the global economy: Banking, Financial Services, Insurance, Real Estate, Energy, Metals & Mining and Media & Communications. The SNL information service integrates breaking news, comprehensive data and expert analysis into an electronic database available online and updated around the clock.
About SNL Metals & Mining
SNL Metals & Mining is the most trusted source of global mining information and analysis. The company draws on more than three decades of comprehensive information and analysis, with an unsurpassed level of experience and historical data. To help clients reach better decisions more quickly, SNL supplies raw data and sophisticated analysis based on unbiased research, reporting and consulting. From worldwide exploration, development, and production to strategic planning, M&A activity and more, SNL's databases and studies help clients make confident decisions and, ultimately, improve results.