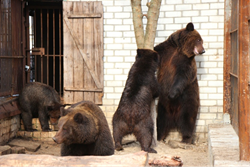 "This is really about setting a good example in Cooperative Ecology -- LAEO, along with Ukraine zoo animals, lions, tigers, bears and all hereby appeal to the world for a peaceful resolution in Ukraine.
Kherson, Ukraine (PRWEB) March 02, 2015
Ukraine zoo bears were released into their new home built by the Lawrence Anthony Earth Organization (LAEO) this week after twenty-seven years in confined Soviet-era cages. The enduring of cold rusty steel floors and long-lone hours of pacing in a 3 by 5 yard space appears to have finally ended for the aging Zhora, the oldest bear resident of a small island zoo in Kherson, Ukraine on the Dnieper River. He and his family will have placed their paws on the earth for the first time in decades and as for his twin cubs, this is a first time ever getting to frolic in a water pool, feel the earth and dig! (See Paw Freedom Video). Watched in elated anticipation by the mayor, city officials, their kids, grand kids and volunteers; everyone was applauding the brown bear's newfound experience of freedom.
As corruption and conflict continue to threaten the people of Ukraine, so, too, does it continue to impact tens of thousands of animals and wildlife residing in this region near Mariupol where Ukraine troops are continuing to prepare defenses from Russian rebels.
An LAEO Wildlife in War Zones Project, their new home represents a 600% increase in space and even has logs to scratch their backs that appeared to be feather-light after a few pats from the momentarily distressed mother. When first released, Masha was worried about her cubs, however she soon found it a safe haven.
Prior to coming under the care of Lionel de Lange, Executive Director of LAEO's Ukraine chapter, the bears were exploited for the annual breeding of cubs that were sold off for sports and hunting games on the black market reportedly by corrupt security personnel. This will be the first time the family will be safe and secure.
Last year after receiving numerous calls of distress over the survival of tens of thousands of zoo animals in Ukraine, LAEO set up a local chapter which took on the situation in Kherson and other parts of the country delivering food and medical supplies for more than 10,000 animals as the conflict heated up, including making a delivery into annexed Crimea for more than 50 starving lions in a wildlife park.
Following in the footsteps of Lawrence Anthony's extraordinary Bagdad Zoo animal rescue mission at the onset of the Iraq War, "We hope to spread a message of peace and forgiveness in the region by drawing attention to ways the people can raise themselves to a happier existence by adopting a change of heart that looks to the survival potential of all life in the region," said Barbara Wiseman, LAEO's International President
For more information on LAEO's work in Ukraine [LAEO Ukraine Website with Back Story