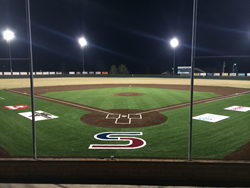 By adding the TruHop system, we'll be able to gain 30 minutes of practice time each day. Over the course of a week, we're getting an extra day of practice.
Topeka, Kansas (PRWEB) March 02, 2015
One of Kansas's premier high school baseball programs will be playing on an all new Shaw Sports Turf infield this year.
Seaman High School, the winners of seven state championship titles and 13 regional championships since 2000, recently made the switch to Shaw's TruHop system and will begin work for the season next week.
"I've been here for 22 years," said Steve Bushnell, Head Baseball Coach. "That's 22 years of dragging hoses, push mowing, fertilizing, and more. All those hours were counterproductive, so making the move to Shaw Sports Turf was a no-brainer. It allows us to focus and spend more time practicing baseball."
The team plays at Sunrise Optimist Complex and, through an agreement with the Optimist Club, takes care of the field in exchange for using it. That means that Bushnell and his team took 15 minutes before and after practice each day to take care of maintenance and other issues.
"By adding the TruHop system, we'll be able to gain 30 minutes of practice time each day," said Bushnell. "Over the course of a week, we're getting an extra day of practice."
Regarding selection of the turf system, Bushnell said several vendors were involved in bidding on the project and the decision to use Shaw Sports Turf came down to the company's ability to meet the specifications for what the school wanted in a synthetic turf system.
The TruHop system was designed by Shaw's R&D team, along with former Atlanta Braves pitcher and newest member of the Baseball Hall of Fame, John Smoltz.
The TruHop turf system can be tailored to fit each performance area of a baseball field, including the infield, outfield, warning track, base path and foul lines.
TruHop is being used throughout the country, but most notably at LakePoint Sporting Community in Georgia. The facility there is on track to become the world's largest tournament sports destination. When the first four TruHop fields opened there last summer, they saw 55 consecutive days of tournament action, with 1,380 total games. Since then, hundreds more games have been played on the fields and they still look new and perform like a first-class natural surface.
Bushnell was able to raise a portion of the money for the project through private Hall of Fame sponsorships with each sponsor's logo in the turf in the halo areas around the field. Seaman USD #345 funded the remainder of the project.
"Seaman High School has a great baseball program," said Nathan Henderson, Territory Manager with Shaw Sports Turf. "It says a lot that they chose the Shaw Sports Turf TruHop system to keep the Vikings on top."
The team begins practice at John Lewis Field today. The home opener for the team will be on April 7, against Turner High School (Kansas City).
About Shaw Sports Turf
A wholly-owned subsidiary of Berkshire Hathaway Inc., Shaw Industries is a full flooring provider to the residential and commercial markets. Shaw supplies carpet, hardwood, laminate, resilient, and tile/ stone flooring products, as well as synthetic turf. Shaw Sports Turf is one of the leading synthetic turf companies in North America and has represented quality and innovation for more than two decades with over 1,500 successful installations, including an impressive list of high-profile field installations. For more information please visit http://www.shawsportsturf.com, call 866-703-4004 or find us on Facebook.