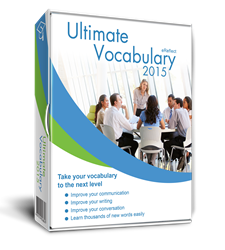 People with this skill are more confident and effective negotiations, enjoy broader and more creative thinking, and have increased clarity of self-expression.
New York City, NY (PRWEB) March 02, 2015
Vocabulary.co.il is an educational organization dedicated to the promotion of literacy and vocabulary progress. The organization has recently recommended Ultimate Vocabulary™, a program by eReflect to be the best software for improving one's communication skills in spoken and written English. Ultimate Vocabulary™ has an unrivaled set of advanced infrastructure components, and a breadth of activities that make learning easy and fun for people of all ages.
Being word smart is a matter of strategic learning with well-designed activities and as this latest review confirms, Ultimate Vocabulary™ is a vocabulary building software product that offers the full range of activities that users of any age can use to significantly improve their vocabulary performance. The reviewer practiced with the program in order to get a better feel of its potential and features, before conducting the evaluation. The website's summary explains how a vocabulary program of Ultimate Vocabulary™'s caliber ensures substantial vocabulary improvement in just a few weeks.
The benefits of possessing a wide and rich vocabulary are numerous. People with this skill are more confident and effective negotiations, enjoy broader and more creative thinking, and have increased clarity of self-expression. The importance of a good vocabulary cannot be stressed enough, eReflect asserts.
The reviewer at Vocabulary.co.il highlights the program's dictionary-sized word database and its "ultimate" word lists (over 10,000 hand-picked vocabulary words) that make vocabulary learning targeted and efficient. As the reviewer explains,
"The creators of this software have really done their homework, because not only has it got everything you need to improve and enhance your knowledge of words, it is also a program that is dead easy to use, with a simple, unfussy on-screen layout that is very easy on the eye. There's nothing better than finding a program that you can just whiz around like driving a car."
In this detailed review, Ultimate Vocabulary is compared to top other vocabulary builders such as Word Smart and Power Vocabulary Builder. The feature-by-feature comparison leads the reviewer to the following conclusion: "If you are a student, business professional, or simply someone looking to increase their vocabulary, Ultimate Vocabulary is the best vocabulary software out there – longitudinally!"
***********
For more information on how you can benefit from Ultimate Vocabulary, please visit its official website, http://www.ultimatevocabulary.com.
About Ultimate Vocabulary™
Ultimate Vocabulary provides a proven and powerful platform, built to improve anyone's vocabulary.
The interactive self-improvement system provides more learning tools than any other program on the market, as well as more information on words.
The Ultimate Vocabulary software provides each and every user with a personal computer tutor. Providing a step-by-step guide to learning a powerful vocabulary, Ultimate Vocabulary is the learning tool everyone can benefit from.
Of course, the software is also backed by eReflect's iron-clad money back guarantee.