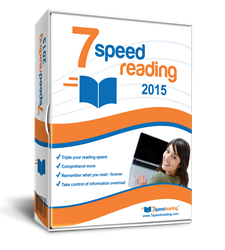 People can learn to speed read in a fun way when there are games and activities that engage them and keep them focused and motivated.
New York City, NY (PRWEB) March 03, 2015
eReflect and 7 Speed Reading™ are pleased to note that the website Secret of MindPower and NLP is now featuring an in-depth review on the program's capacity for reading improvement, hosted by site creator Barry Baines. In his detailed evaluation, Baines offers an inside peek into the program's features, tools, and technologies, explaining how they make learning to speed read such a structured and effective process. Baine reaches a favorable conclusion about 7 Speed Reading™ after testing it, and says, "As a result, I can state quite confidently that it is the best speed reading software that I have encountered."
Baines explains how the speed reading software does more than improve the user's reading speed by a factor of three. Although eReflect's official claim is that learners can read three times faster than when they started practicing, Baines asserts that users can actually reach a reading rate of up to 1,000 words a minute if they complete the program's practice correctly and rigorously.
People can learn to speed read in a fun way when there are games and activities that engage them and keep them focused and motivated. Baines emphasizes how it only took him a couple of days to experience a substantial improvement in his own speed reading skill.
The reviewer and NLP expert uses his review of 7 Speed Reading™ to highlight the program's features, like the video tutorials, games, and interactive learning, all of which make it easier for busy people to use. Emphasis is given to how the program offers unrivaled support to the learner, not only through the instructional videos but also through its user-friendly design and other functionalities that make speed reading practice appealing and motivating for learners of all ages.
Baines explains that the program doesn't solely focus on replacing bad reading habits with speed reading techniques, but it also pays attention to the importance of eye warm-ups and training. He notes that the well-rounded program also provides a more holistic approach on how to speed read more efficiently and optimize health and knowledge potential at the same time.
************
For more information about the benefits of using 7 Speed Reading, please visit the official website at http://www.7speedreading.com.
About 7 Speed Reading™
7 Speed Reading is the only modern speed reading software that uses the latest technology to produce superior results.
The software provides its users with a new way to master speed reading that guarantees three times the reading speed along with improved memory and comprehension.
The software is poised as the most comprehensive speed reading system anywhere. It contains seven learning strategies, fifteen software activities, video training, advanced tracking capabilities and many more exciting features.