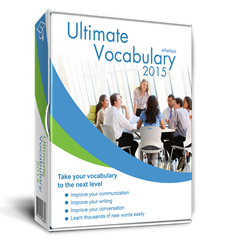 ...the program features up to 50 word usage examples for each word the learner is introduced to...
New York City, NY (PRWEB) March 05, 2015
Vocabulary.co.il considers Ultimate Vocabulary™ to be at the top of the list for people who are looking for ways to build vocabulary. As eReflect, the company behind this award-winning program notes, a broad English vocabulary is essential whether a person is a native speaker of the language or learning in an ESL environment. Ultimate Vocabulary™ is an all-in-one solution for teaching new vocabulary in a way that's time-efficient, effective, and fun for the learner.
Vocabulary.co.il offers a detailed review of the program and how its features and tools help the learner improve their vocabulary in little time and with minimum effort. As the review highlights, the program features up to 50 word usage examples for each word the learner is introduced to. The development team at eReflect explain that this feature was added to ensure the learner understands all possible uses of the word in multiple contexts: formal, informal, slang, and idiomatic.
As the Ultimate Vocabulary™ reviewer explains on the Vocabulary.co.il site, one reason why the program is so effective in improving people's vocabulary is its individual monitoring. "Firstly, it provides a wide range of easy to use tests," the reviewer notes, "and exercises all 'tracked' by a unique monitoring system that charts the student's progress on a personalized graph chart."
Apart from progress tracking and reporting, the user also gets access to an impressive dictionary-like word database of no less than 142,647 words. In addition, 20,000 of these words are accompanied by audio pronunciation functionality, which to further increases the user's mastery of new vocabulary.
The reviewer concludes their evaluation with the following verdict directed at anyone interested in boosting their vocabulary with new words: "The old saying goes, 'Rome wasn't built in a day,' but with Ultimate Vocabulary English software you could soon be on your way to a brand new word…or two…within minutes."
In this review, the Vocabulary.co.il editor considers Ultimate Vocabulary™ to be the best vocabulary software, because it offers a winning combination of features and advanced technologies that promote faster and efficient learning. eReflect's spokesperson commented on this review today, saying,
"We thank Vocabulary.co.il for the in-depth, favorable review and we hope many users out there are convinced that the most foolproof way to improve your vocabulary is through structured and fun practice with Ultimate Vocabulary™."
***********
For more information on how you can benefit from Ultimate Vocabulary, please visit its official website, http://www.ultimatevocabulary.com.
About Ultimate Vocabulary™
Ultimate Vocabulary provides a proven and powerful platform, built to improve anyone's vocabulary.
The interactive self-improvement system provides more learning tools than any other program on the market, as well as more information on words.
The Ultimate Vocabulary software provides each and every user with a personal computer tutor. Providing a step-by-step guide to learning a powerful vocabulary, Ultimate Vocabulary is the learning tool everyone can benefit from.
Of course, the software is also backed by eReflect's iron-clad money back guarantee.