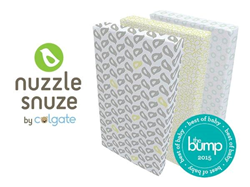 Innovative. Beautiful. Safe. The Nuzzle Snuze by Colgate named best baby mattress by TheBump.com.
(PRWEB) March 03, 2015
In recognition of its innovation and modern aesthetics, Colgate's Nuzzle Snuze® crib mattress has been named a "Best of Baby 2015" award winner by TheBump.com. The Nuzzle Snuze is the only mattress to receive this coveted seal of approval.
 
With more products than ever on the market, the editorial staff of The Bump was faced with creating the definitive list of "must have" products in categories such as strollers, car seats and feeding gear. These annual awards help simplify an often overwhelming process as new parents navigate through baby products, many without any prior knowledge of the category. 
 
"Babies can spend up to 70% of their growth and development time on the crib mattress, so deciding which brand to buy is one of the most critical decisions parents make," said Terri Paul, marketing director, Colgate Specialty Division. "We are delighted that Colgate's dedication to safety and uncompromising quality has been recognized by experts who are trusted by so many parents. We hope a Nuzzle Snuze is part of every expecting parent's dream registry." 
 
Nuzzle Snuze: Innovative. Beautiful. Safe.
Colgate's environmentally safe, technologically advanced crib mattress delivers innovation both inside and out. Made of a eco-friendly material, the Nuzzle Snuze line contains NaturesNest™, a naturally fire resistant material that does not require synthetic protection. Inspired by nature, the NaturesNest design provides the ideal micro-climate for a baby and toddler by allowing humidity and air to flow freely through the crib mattress. The Nuzzle Snuze is available in three exclusive designs with modern colors, including Dottie Lottie, Squiggles and Chic-a-Dee patterns.
 
"First-time parents are tasked with making monumental decisions when choosing the best and safest products for their baby," says Rebecca Dolgin, editor in chief of TheBump.com. "Our annual Best of Baby awards have done all the work by reviewing and choosing the best of the best so parents can cut down on the guesswork and feel confident when deciding which products and gear to buy or add to their baby registry."
The Nuzzle Snuze is available online at ColgateKids.com and at specialty stores and boutiques in the Brixy network.
 
About Colgate Mattress
Headquartered in Atlanta, GA, Colgate is a family-owned business with a 60-year heritage of manufacturing premium quality crib mattresses. Founded in 1955 by Sol and Anne Wolkin, the company creates the largest selection of foam and innerspring crib mattresses, foam mattress pads and crib accessories available. All Colgate products are GREENGUARD™ certified, non-toxic and made in the USA using the finest internal components available. Colgate has received many industry awards and is proud to be among the first members of the Juvenile Products Manufacturers Association (JPMA), which is dedicated to enhancing child product safety. For more info, visit ColgateKids.com.