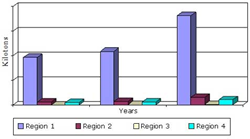 The global market for hydraulic proppants is expected to reach $83.2 billion in 2019
(PRWEB) March 02, 2015
BCC Research (http://www.bccresearch.com) reveals in its new report on hydraulic proppants, the boom in hydraulic fracturing following the commercial extraction of unconventional and conventional gases has resulted in significant growth in demand for proppants.
Growing industrialization has led to an increased need for energy with expansion being primarily driven by countries such as China, India, Brazil and Russia. The U. S. is bucking the global energy trend, with a real prospect of becoming largely independent of fossil fuel imports, while major European consumers, China and India are preparing for increasing dependency. The global energy landscape is changing rapidly and profoundly, with trade flows shifting and security of supply issues reshaping.
Hydraulic fracturing fluids use proppants to inject into the wells, and the most commonly used proppant is silica sand as it is low cost and abundant. In the U.S., demand for proppants is primarily from the shale oil industry, as the natural gas price is delinked from the crude oil price and thus it is more economical to develop shale oil. Globally, proppant sales are growing due to increase in the production of shale gas as countries get set to utilize this unconventional energy for domestic purpose and also to export excess gas.
"While most of the proppant spending will take place in the Americas and in the U. S. in particular, annual growth rates for other nations and regions are more aggressive, as the unconventional oil and gas boon spreads across the globe over the next ten years," says BCC Research analyst Tanmay Joshi. "Of particular note are the proppants markets in Argentina, throughout the Americas and in China. These nations and regions have extensive unconventional oil and gas reserves, and the global trend toward natural gas as the dominant feedstock will ensure significant political and fiscal capital are spent developing them."
Another key market for proppant is expected to be that of the Middle East and North Africa (MENA) with Algeria having the world's third highest recoverable shale gas reserve at 707 trillion cubic feet (Tcf). In addition, the region has potential shale reserve in countries such as Algeria, Libya, Tunisia, Morocco, Egypt, Saudi Arabia, Oman, the United Arab Emirates (UAE), Kuwait, Syria and Jordan. The region has large, unexplored and unconventional gas deposits with companies claiming that only 15% of the region has been adequately explored for gas.
Fracking Proppants: Global Markets analyzes the global hydraulic fracking proppants market in terms of growth, market size and opportunities with regard to types, and regions. The report includes forecasted revenue through 2019. This report discusses market dynamics of fracking proppants across geographies of North America, MENA, Asia-Pacific (APAC), and the rest of the world (ROW).
Editors and reporters who wish to speak with the analyst should contact Steven Cumming at steven.cumming(AT)bccresearch.com.
About BCC Research
BCC Research publishes market research reports that make organizations worldwide more profitable with intelligence that drives smart business decisions. These reports cover today's major industrial and technology sectors, including emerging markets. For more than 40 years we've helped customers identify new market opportunities with accurate and reliable data and insight, including market sizing, forecasting, industry overviews, and identification of significant trends and key market participants. We partner with analysts who are experts in specific areas of industry and technology, providing unbiased measurements and assessments of global markets. Recently selected as the world's greatest market research company, BCC Research is a unit of Eli Global, LLC. Visit our website at http://www.bccresearch.com. Contact us: (+1) 781-489-7301 (U.S. Eastern Time), or email information(AT)bccresearch.com.