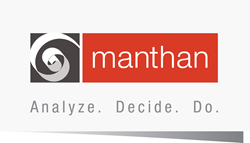 Phoenix, AZ (PRWEB) March 03, 2015
Gartner recently released the 2015 Magic Quadrant for Business Intelligence and Analytics Platforms. This widely read report represents Gartner's opinion on software vendors that organizations should consider when evaluating business intelligence (BI) and analytics software and the trends that shape the BI and analytics market. Manthan, a solutions provider of retail and CPG analytics applications and services, has been mentioned by Gartner, Inc. in this year's Magic Quadrant report in the 'Other BI Platform Vendors' section.
Those that review the 2015 Magic Quadrant for Business Intelligence and Analytics Platforms will learn about the trends in the analytics market, including:

Traditional BI market share leaders are being disrupted by platforms that expand access to analytics and deliver higher business value.
A wider range of business users are demanding access to interactive styles of analysis and insights from advanced analytics, without requiring them to have IT or data science skills.
The transition is to platforms that can be rapidly implemented and can be used by either analysts and business users, to find insights quickly, or by IT to quickly build analytics content to meet business requirements to deliver more timely business benefits.
The intent is to expand the use of analytics, particularly insight from advanced analytics, to a broad range of consumers and nontraditional BI users — increasingly on mobile devices and deployed in the cloud.
The rapid adoption of Manthan's analytics suite in the market evidences the above trends referenced in the Magic Quadrant report. The company's solution is a comprehensive BI and advanced analytics offering focused on delivering higher business value in the retail and CPG verticals. Cloud-based and mobile-enabled, Manthan analytics provide nontraditional BI users with the insights that they need to make better business decisions, right now.
Manthan's key differentiator in the market includes the ability to deliver accessible and advanced analytics insights to provide decision support to retail and CPG business users. Manthan makes its analytics solutions accessible by providing an intuitive user interface, pre-built and interactive KPIs, dashboards, data visualizations and reports, guided analytics and insights delivery on any device.
"Our decision a few years ago was to focus our talent and energies on transforming analytics from decision-support to decision-making," said Atul Batra, CTO Manthan. "The current market trends definitely support our move towards 'consumerization' of analytics in order to deliver insights to a broader range of analytics users that lack advanced analytics skills."
On reviewing the report, Manthan CEO, Atul Jalan commented, "Several of the market trends mentioned in the Gartner's Magic Quadrant are reflections of Manthan's core beliefs from the last 10 years. Our mission is to remain true to our culture of innovation, in order to continue to create ground breaking analytics solutions that are light years ahead of an evolving market."
To access a complimentary copy of the full report, visit http://bit.ly/18hXKw0
----------------------------
ABOUT MANTHAN
Manthan is the Chief Analytics Officer for consumer industries worldwide. Manthan's portfolio of analytics-enabled business applications, advanced analytics platforms and solutions are architected to help users across industries walk the complete data-to-result path - analyze, take guided decisions and execute these decisions real-time. Sophisticated, yet intuitive analytical capability coupled with the power of big data, mobility and cloud computing, brings users business-ready applications that provide on-demand access and real-time execution - the only path to profit in a contemporary, on-demand and connected economy. Manthan is one of the most awarded analytics innovators among analysts and customers alike - with over 170 customers across 21 countries. To see how your business can gain from analytics, visit manthan.com
----------------------------
Disclaimer: Gartner does not endorse any vendor, product or service depicted in its research publications, and does not advise technology users to select only those vendors with the highest ratings or other designation. Gartner research publications consist of the opinions of Gartner's research organization and should not be construed as statements of fact. Gartner disclaims all warranties, expressed or implied, with respect to this research, including any warranties of merchantability or fitness for a particular purpose
Gartner, Magic Quadrant for Business Intelligence and Analytics Platforms, Rita L. Sallam, Bill Hostmann, Kurt Schlegel, Joao Tapadinhas, Josh Parenteau, Thomas W. Oestreich, 23 February 2015