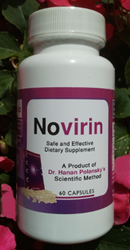 The CBCD points out a latent virus may be the underlying cause of many types of fatigue. - CBCD
Rochester, NY (PRWEB) March 03, 2015
"Feeling tired all the time? You may be infected with a latent virus. The CBCD recommends Novirin, which has a natural, antiviral formula designed to help the immune system target the most common latent viruses associated with feelings of fatigue." - Greg Bennett, CBCD
A new article on Forbes.com suggests that bee pollens "are about 40% protein and are rich in folic acid, free amino acids, and lots of B-complex, which can help keep you going all day by enhancing the brain's stamina and fighting off fatigue." (1) The use of bee pollen increased during the late 1970s following testimonials by athletes that supplementation increased stamina and improved athletic ability. Although bee pollen has been used in certain cultures for thousands of years, its popularity has become more widespread in recent years due to its potential health benefits. Products containing bee pollen have become widely available in health food stores and drugstores, as well as online. (See drugs.com, from 2009) (2)
Does the research support the claim that bee pollen reduces fatigue?
Perhaps, but drugs.com counters the Forbes report, noting that "although bee pollen is nutritionally rich, claims that it enhances everyday and athletic performance have not been reliably verified." (2)
The CBCD points out a latent virus may be the underlying cause of many types of fatigue. Additionally, latent viruses infect almost everyone. The CDC notes that "Epstein-Barr Virus (EBV), also known as human herpesvirus 4, is a member of the herpes virus family. It is one of the most common human viruses. EBV is found all over the world. Most people get infected with EBV at some point in their lives." (See the CDC, last reviewed on January 26, 2014) (3) As many people know, EBV is the cause of infectious mononucleosis, and has been linked to chronic fatigue syndrome.
"Most scientists and physicians believe that latent viruses cause no pathologies or symptoms. The FDA even states on its website: 'Some viruses, however, can enter a state known as latency in which the virus is not being replicated. In the latent state, the virus does not cause disease.' As a result, current standard medical practices don't target latent viruses … in contrast to this belief, the Microcompetition with Foreign DNA theory, proposed by Hanan Polansky in 2003, describes how viruses, during their latent phase, can cause a chronic disease." (See Pharmacology & Pharmacy, from March 6, 2014) (4) One chronic condition, which may be caused by a latent virus, such as EBV, is fatigue. The CBCD points out that following treatment with the formula of Novirin, up to 80% of study participants reported a decrease in feelings of fatigue. (4) This was true for those who experienced physical, as well as mental fatigue.
Click to learn more about Novirin and latent viruses.
"Studies have shown that one-third of the general population reports a feeling of fatigue, with 5% reporting a feeling of short-term fatigue, and 31% reporting a feeling of long term or chronic fatigue. In the US alone, the feeling of fatigue is responsible for 10 - 15 million visits to the family doctor every year." (4) Additionally, studies associate the feeling of fatigue with a sense of tiredness, lack of energy, a feeling of exhaustion, and impaired physical and/or cognitive performance.
Thus, while scientists still debate the benefits of bee pollen against symptoms of fatigue, the CBCD recommends Novirin to those who feel tired. This recommendation is based upon the results of a clinical study, which showed that the formula of this natural, antiviral product safely and effectively reduced feelings of fatigue in study participants.
Novirin helps decrease fatigue by helping the immune system to target latent viruses…and reducing their numbers.
The formula of Novirin was designed to help the immune system target the following latent viruses: the varicella zoster virus (VZV), the human papillomavirus (HPV), the Epstein Barr Virus (EBV), the herpes simplex virus (HSV-1 and HSV-2), and the cytomegalovirus (CMV). The formula of Novirin was tested by Hanan Polansky and Edan Itzkovitz from the Center for the Biology of Chronic Disease (CBCD) in two clinical studies that followed FDA guidelines. The clinical studies were published in the peer reviewed, medical journal Pharmacology & Pharmacy, the first, in a special edition on Advances in Antiviral Drugs. Study authors wrote that, "individuals infected with the (HPV, HSV-1, HSV-2, EBV, and other viruses)…reported a safe decrease in their symptoms following treatment with Gene-Eden-VIR." (5) The study authors also wrote that, "We observed a statistically significant decrease in the severity, duration, and frequency of symptoms." (5)
Novirin can be purchased on the product website here: http://www.novirin.com
Novirin is a natural antiviral dietary supplement. Its formula contains five natural ingredients: Selenium, Camellia Sinesis Extract, Quercetin, Cinnamomum Extract, and Licorice Extract. The first ingredient is a trace element, and the other four are plant extracts. Each ingredient and its dose were chosen through a scientific approach. Scientists at PolyDNA, the company that invented and patented the formula, scanned thousands of scientific and medical papers published in various medical and scientific journals, and identified the safest and most effective natural ingredients against latent viruses.
To date, Novirin is the only natural antiviral products on the market with published clinical studies that support its claims.
Interested individuals may read the published studies at the following links:
Click to read: Gene-Eden-VIR Is Antiviral: Results of a Post Marketing Clinical Study
Click to read: Gene-Eden-VIR Decreased Physical and Mental Fatigue in a Post Marketing Clinical Study That Followed FDA Guidelines; Results Support Microcompetition Theory
Click to learn more about Novirin and latent viruses.
References:
(1) (1) Forbes.com - Cohen, J. "12 Best Foods To Boost Brain Power." Published February 5, 2015. http://www.forbes.com/sites/jennifercohen/2015/02/05/12-best-foods-to-boost-brain-power/
(2) Drugs.com - Bee Pollen - 2009 Wolters Kluwer Health http://www.drugs.com/npp/bee-pollen.html
(3) CDC.com - About Epstein-Barr Virus (EBV). Last updated January 6, 2014. http://www.cdc.gov/epstein-barr/about-ebv.html
(4) Hanan Polansky*, Edan Itzkovitz "Gene-Eden-VIR Decreased Physical and Mental Fatigue in a Post Marketing Clinical Study That Followed FDA Guidelines; Results Support Microcompetition Theory." Pharmacology & Pharmacy - Published March 6, 2014.
http://www.scirp.org/journal/PaperInformation.aspx?PaperID=44234#.VPMiynyUf90
(5) Polansky, H. Itzkovitz, E. Gene-Eden-VIR Is Antiviral: Results of a Post Marketing Clinical Study. Published in September 2013.
http://www.scirp.org/journal/PaperInformation.aspx?PaperID=3610