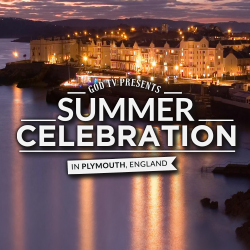 "Andrew Wommack's in-depth teaching on Grace transforms the way people see God," - GOD TV President and CEO, Wendy Alec.
Plymouth, Devon (PRWEB UK) 2 March 2015
The American Bible teacher is best known for his messages on God's love and the balance between grace and faith. Many also look to Andrew Wommack for practical insights on how they can overcome life's challenges. "Don't Settle For Less – Receive God's Best' is the title of one of his teachings.
Summer Celebration will also feature the upbeat sounds of British singer songwriter Lara Martin, who is often heard on BBC Radio 2. A worship leader from Yorkshire, Lara's songs are also sung in churches worldwide. She is best known for writing: God is Here, The Voice of Hope and Divine Exchange.
The three-day event will be hosted by GOD TV's Regional Director for the UK and Ireland, Fergus Scarfe and Head of Ministry Relations, Jonathan Hulton. About 800 people are expected to attend the Celebration and it will be televised to GOD TV's global reach of some 951 million viewers.
"Andrew Wommack's in-depth teaching on Grace transforms the way people see God," said GOD TV President and CEO, Wendy Alec.
Summer Celebration follows last year's gathering at the Plymouth Pavilions with British evangelist Nathan Morris and Canon Andrew White, attended by people from 18 different countries. The events are part of the build up to the opening of GOD TV's Revival Prayer Centre in the city.
"We are looking forward to Summer Celebration 2015 with great expectation", said Jonathan Hulton. "Not only do events like this change lives, but they bring a strong sense of community and new business to the local economy."
Tickets for Summer Celebration can be purchased at http://www.god.tv/sc2015.
GOD TV is available in the UK on SKY (580), Freesat (694) and Virgin (279). Also online via smartphone (GOD TV App); computer (god.tv); or TV screen, (Roku).
About GOD TV: GOD TV took to the airwaves in the UK in 1995 and now transmits from Jerusalem to a global reach of some 900 million people. The network's worldwide broadcast license is held by Angel Christian Television Trust Inc, a US not-for-profit corporation. GOD TV is owned by several Angel Charities internationally, which in addition to the network's media outreach, assist people in the developing world. GOD TV adheres to the UK Evangelical Alliance Basis of Faith. Its signal is broadcast Free To Air (FTA) and is accessible to all.
Contact: GOD TV's UK & Ireland Regional Director, Fergus Scarfe at fscarfe(at)god(dot)tv
GOD TV Broadcast HQ: Jerusalem, Israel. International offices: USA (Orlando, Florida; Kansas City, Missouri) UK & Ireland (Plymouth, England), Europe (Hamburg, Germany), Asia & Middle East (Chennai, India; Sri Lanka), Africa (Cape Town, South Africa; Nairobi, Kenya), Australasia (Melbourne, Australia).