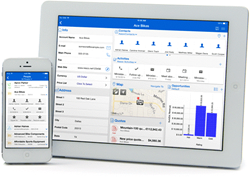 (PRWEB) March 03, 2015
Resco announced today a live webinar session dedicated to demonstrating Resco Mobile CRM, the mobile client for Microsoft Dynamics CRM, is scheduled for Wednesday, March 4, 2015.
Ivan Stano, COO at Resco, will present how to get Microsoft Dynamics CRM into smartphones and tablets across different mobile platforms with Resco Mobile CRM. The session is said to be suitable for anyone thinking about the need for mobile CRM for their salesforce or service team working out in the field, as well as for Microsoft Dynamics CRM partners who want to learn more about the possibilities of mobilizing any version of Dynamics CRM for their customers.
The 40-minute long session promises to cover a walkthrough of the main features of the mobile CRM client and their application in praxis.
More info on how to register for the free webinar: http://www.resco.net/MobileCRM/webinar/2015-03-04.aspx
About Resco Mobile CRM
Resco Mobile CRM® is the market favorite mobile CRM client for Microsoft Dynamics CRM. The app — which gives users around-the-clock access to their CRM data from anywhere — comes with a full offline mode, interactive maps, support of custom entities & many other attributes that make it the product people love to use.
For more information visit: http://www.resco.net/mobilecrm
About Resco
Resco, founded in 1999, is one of the global leaders in developing cross-platform mobile software solutions. The team of Resco professionals utilizes its knowledge by designing products for corporate customers, developers, integrators and end users.
For more information, please visit: http://www.resco.net