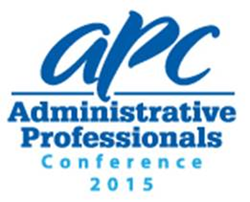 While traditional administrative skills are still valued and utilized on the job, today's assistants have a much broader variety of responsibilities. They must be multi-skilled, versatile and ready to adapt to new responsibilities and nontraditional roles
Portland, ME (PRWEB) March 05, 2015
The Administrative Professionals Conference (APC), a high-level admin training conference produced by the American Society of Administrative Professionals (ASAP), has announced four keynote speakers for its 23rd annual edition, taking place October 4-7, 2015 at the Gaylord Texan Resort & Convention Center in Grapevine, TX.
The premier Keynote at this year's APC is Cheryl Strayed, author of the New York Times bestseller Wild, currently a highly acclaimed motion picture starring Oscar-nominated Reese Witherspoon. Strayed will share personal experiences about how to bear the unbearable, how to move from grief and anger to acceptance, and how to keep walking even when it seems impossible to stand.
As the most comprehensive training and networking event for North American administrative professionals, the APC kicks off its first day with several workshops, an opening reception, and the first of 4 keynotes; followed by three full days of training sessions, learning opportunities, networking activities, meet 'n' mingle meals, and more.
"Every year the Who's Who of Corporate America sends their admins to this leading conference," said Judy Geller, Director of the Administrative Professionals Conference and the American Society of Administrative Professionals. "They know attending the APC gives them the kind of in-depth, valuable live training they can't get anywhere else. They learn, network, exchange ideas, get inspired, and head back to the office with new ideas, strategies, tools and skills they can use right away."
"While traditional administrative skills are still valued and utilized on the job, today's assistants have a much broader variety of responsibilities. They must be multi-skilled, versatile and ready to adapt to new responsibilities and nontraditional roles," she added.
The APC's international audience will also hear from keynote speakers DeLores Pressley, personal power and motivation expert; Robyn Benincasa, CNN Hero, champion adventure racer, and author; and Seth Mattison, visionary expert on workforce trends. Keynotes will focus on personal confidence; characteristics of leaders; and professional relationships, respectively. For further information about the keynote presentations, please go to http://www.apcevent.com/program/keynotes.
The full conference agenda can be accessed at http://www.apcevent.com. For more information or to register, call 1-800-873-1272 or email info(AT)apcevent.com.
About the APC
The APC is produced by the American Society of Administrative Professionals (ASAP), the largest free association and resource center for administrative professionals. Celebrating its 10th year anniversary in 2015, ASAP has grown its membership to 55,000 admins from around the world, and gives its members access to over 450 online training courses, live and on-demand webinars, a monthly newsletter, articles and features geared for admins, and a prestigious admin certificate program. ASAP is a business unit within Diversified Communications, a global organization operating on four continents and a major independent producer of events and media worldwide. For more information, visit http://www.asaporg.com.