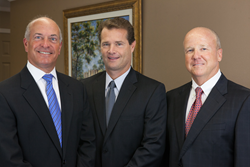 VIRGINIA BEACH, VA (PRWEB) March 02, 2015
WBR Insurance, one of the largest diversified insurance and financial services organizations in Hampton Roads, has strategically expanded its office locations to provide convenient, personalized automobile, home, life, and business insurance and financial products. With offices now in Virginia Beach, Norfolk, and Newport News, local Nationwide Agents John Wilson, Jr., Alex Bell, II, Clay Robertson and their experienced staff are able to better serve individuals, families, and business in Hampton Roads.
WBR Insurance's founders have been working in the insurance industry for more than thirty years. The agency prides itself in establishing personal relationships with customers to assist in protecting what matters most to their clients. Whether that is insuring a home for a family, obtaining enough coverage for an automobile, or protecting their business.
"We look at a client's current coverage to find out what they should have. We ask questions and engage with the client during the process to find out what is important to them," says Wilson.
The company packages its products to best fit the individual.
"We make the right fit by explaining choices and educating our client on the coverage," says Bell.
With the three locations and plans for additional expansion, WBR Insurance is continuing the momentum they experienced over the last several years not only as a business but also as a partner within the community. Wilson, Bell, and Robertson were all raised here in Hampton Roads, and are actively involved with community organizations.
"This is certainly our home, and we are growing the agency to serve those we live with," says Robertson.
About WBR Insurance
WBR is an award-winning licensed and certified agency based in Virginia Beach, VA. WBR has grown to be of the largest diversified insurance and financial services organizations in Hampton Roads. The company provides a full range of insurance and financial services, including auto, commercial, homeowners and life insurance. For more information, visit http://www.wbrinsuranceagency.com.
###