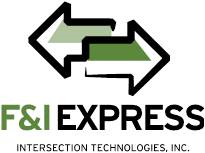 Meeting the wants and needs of our dealers is the primary objective
Southlake, TX (PRWEB) March 03, 2015
Intersection Technologies Inc. – F&I Express® is pleased to welcome Continental Warranty Inc. to its network of aftermarket F&I providers. Continental Warranty's addition to F&I Express will enable Continental dealers to electronically rate, prepare, submit, register and remit all of Continental's vehicle service contracts and ancillary products.
For over 20 years Continental Warranty Inc. has been providing extended-term vehicle service contracts, offering consumers the chance to protect their vehicles well beyond the limitations of a factory warranty. By providing some of the most comprehensive and competitive service contracts in the industry, Continental offers a wide variety of services to help consumers drive in comfort and safety.
"As a leading vehicle service contract company, Continental Warranty Inc. instills confidence in their dealers and consumers. That is exactly the type of quality provider we like to have on our platform," said Brian Reed, President and CEO F&I Express. "We are excited to have them on board!"
"Continental Warranty Inc. is very pleased and excited about the relationship with F&I Express. Meeting the wants and needs of our dealers is the primary objective," said Tony Volpe, VP of National Accounts. "With the addition of F&I Express our solutions will be streamlined, with a faster more accurate process, which will enable opportunities for growth."
ABOUT F&I EXPRESS
Intersection Technologies Inc. is a leading technology and solutions provider to the automotive F&I industry. Our F&I Express® eContracting network enables providers and agents to improve relationships with their dealer clients by improving the speed and quality of retail F&I processes. Our ExpressTablet℠ iPad® mobility solution helps agents and field sales teams improve efficiency and increase dealer product penetration. Our ExpressRecoveries℠ program helps auto finance sources improve recoveries and compliance for ancillary product cancellations. F&I Express® was voted by agents as the winner of the Agent Summit 2013 Provider Innovator of the Year award for its ExpressTablet iPad® solution for agents and providers.
ABOUT CONTINENTAL WARRANTY, INC.
Continental Warranty Inc. provides some of the most comprehensive and competitive service contracts in the industry. As a participating Continental Member, the benefits provided to you will offer a wide margin of services to help you drive in comfort and safety. For more information, give us a call at 800-265-9136 or visit our website at http://www.continentalwarranty.org/.