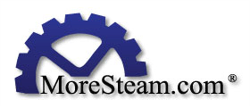 the awareness of adequate power is extremely important in achieving sound results, which naturally serve as the foundation for decisions
Columbus, OH (PRWEB) March 03, 2015
On Tuesday, March 3rd, MoreSteam.com's Principal Statistician and Product Manager, Smita Skrivanek, will speak to an audience of Lean Six Sigma experts gathered at the 2015 ASQ Lean and Six Sigma Conference on the topic of power analysis and sample size determination.
A basic tenet of effectively practicing Lean Six Sigma process improvement methods is gaining an understanding of how key process variables or "inputs" bear on the related process outputs. Design of Experiments has proven to be one of the best methods for discovering and validating relationships between the process outputs or "responses" and inputs or "factors."
One of the most important considerations when considering an experimental design for analysis is whether or not the design has adequate power to detect in the responses of the process the effect size of interest to the experimenter. In many instances, the "power" or sensitivity of the experiment is the most critical aspect of the design in assuring sound, reliable results. If the power of an experiment is low, then it is likely that the experiment will be inconclusive. If sample size is too large, valuable resources will be wasted on producing a result with limited practical importance.
In her presentation "The Most Power for the Least Effort," Ms. Skrivanek will address the importance of conducting a power analysis before performing a test or an experiment to assure the most appropriate design is used. In commenting on the topic, Ms. Skrivanek observed, "as a scientific and ethical issue, the awareness of adequate power is extremely important in achieving sound results, which naturally serve as the foundation for decisions made on the basis of the results."
Those attending Ms. Skrivanek's presentation can expect to leave with the following objectives being met:
● Recognition of the importance of conducting a power analysis prior to performing a test or an experiment, rather than post hoc.
● How to identify factors affecting power and sample size calculations for experimental design.
● How to apply power analysis to studies to be performed in their own workplaces.
Ms. Skrivanek's presentation will be at the Tapatio Cliffs Resort at 9:15 a.m. MST.
About MoreSteam.com
MoreSteam.com is the leading global provider of online Lean Six Sigma training and Blended Learning technology, serving over 2,000 corporate clients and over 50% of the Fortune 500 with a full suite of Lean Six Sigma e-Learning courses, data analysis software, online project tracking software, and online testing, and process simulations and games. MoreSteam.com was launched in the year 2000 in response to the high cost of traditional Six Sigma training and tools, and has now trained over 340,000 Lean Six Sigma professionals. MoreSteam's mission is to enable people to advance the performance of their organizations by delivering powerful tools for process improvement to the widest possible audience at the lowest price available.
Smita Skrivanek has served as MoreSteam.com's principal statistician for 15 years, and more recently became Product Manager for the innovative EngineRoom data analysis software application. During that time, Smita has developed curriculum, worked as a coach, and assisted MoreSteam.com students with their advanced statistical questions. She is a named inventor on four patents and patent applications. Smita has graduate degrees in applied and theoretical statistics from The Ohio State University and an MBA from Indiana University Kelley School of Business.