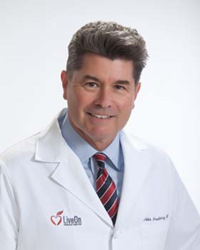 Historically, across the United States, there is a corresponding increase in babies born nine months after a severely cold winter like we have been experiencing
Atlanta, GA (PRWEB) March 04, 2015
Snow burdened residents scraped the ice, shoveled the snow and stayed indoors far more during the harsh winter that has gripped the nation for months. Now, an Atlanta area physician has a forecast for the summer and fall of 2015—more babies!
"This year's polar vortex has definitely caused more people to stay indoors. Whether just staying warm or snuggling up to a loved one, the intimacy created by the winter weather means we will likely see a spike in births during the late summer months into fall," said John Bradberry, M.D. of the LiveOn Health Centers. "Historically, across the United States, there is a corresponding increase in babies born nine months after a severely cold winter like we have been experiencing," added Dr. Bradberry.
The "polar vortex" phenomenon has happened before. Hospitals in cold plagued states have seen birth rates jump, sometimes by as much as twenty to thirty percent, in the months of August, September, and October following a cold winter with lots of snow and ice.
"After all, we are human beings. Even during a normal winter, the days are shorter, the nights are longer. When you can't be outdoors, you want to be indoors with someone you love. It's sometimes the perfect combination of conditions that results in the miracle of birth. That's what we will be seeing nine months after this year's epic winter," concluded Dr. Bradberry.
LiveOn Health Centers are the ideal blend of modern technology and old-fashioned personal care providing family healthcare, urgent care, total wellness care.
LiveOn Health Centers compassionate, tech-savvy doctors are specifically trained to detect problems early and apply high-tech medical and lifestyle science to aggressively prevent heart disease and stroke and substantially reduce the risk of cancer and other diseases.
Today, that kind of care is rare. A doctor who handles your everyday needs but takes the time to help live long and live well.
LiveOn Health Centers are conveniently located at 80 Vinings Drive, Suite 80 in McDonough, Georgia and 6385 McGinnis Ferry Road, Suite 202 in Johns Creek, Georgia. Contact LiveOn Health Centers at (770) 302-6780 during regular office hours, 8am to 5pm Monday - Friday, 9am to 1pm on Saturday. Or, visit their website at http://www.liveoncenter.com.