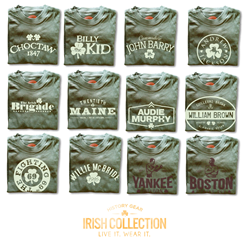 The branding of Saint Patrick's Day verges on racism in some cases.
Bronxville, NY (PRWEB) March 03, 2015
Every year Irish culture is trivialized and disparaged in a sea of green comedic hats and 'Kiss me Quick' T-shirts. One company based in NY, with an Irish founder has embarked on a quest to restore a little dignity and respect into the disrespectful charade of Saint Patrick's Day branding. HistoryGear.com has launched the "Irish Collection," a series of designs inspired by the Irish and Irish Americans that helped define history.
James Hampton is the founder of NY based HistoryGear.com and is originally from Saul, County Down in the North of Ireland. "I've lived in the US for over 20 years and each year the shelves are packed with demeaning stereotyped garbage. All the large retailers cash in and disparage the legacy of our Patron Saint with designs such as 'Pubs the official sun block of Ireland', 'Where's My Lucky Charms' and classics such as 'Lets Get Ready To Stumble'. It disgusts me and its seems to be getting worse - it verges on racism. I take it personally as my family hails from Saul, where Saint Patrick landed in 432. My mother's house is in the shadow of Slieve Patrick where a large statue of Saint Patrick watches over the land. It was my Great Grand father who donated the land for Slieve Patrick in 1932, so it all means a lot"
The Irish Collection, is a series of T-Shirt designs inspired by the Irish and Irish Americans who helped shape and define the history of the US and beyond. From the Choctaw nation's $170 famine donation in 1847 to WW2 legend Audie Murphy, the decorated son of sharecroppers. Others designs include:

John Barry - The Wexford man widely credited as "The Father of the American Navy"
Billy the Kid - Often know as 'Kid Antrim', born in NYC in around 1860 to Irish immigrants
The Irish Brigade - The infamous 'Clear the way' brigade of the American Civil War.
HistoryGear.com is a NY based online retailer, that specializes in History Inspired designs. We have over 12 collections ranging from the Native American Collection to our Kids Only Collection. We believe dialogue about our past will improve all our futures. By designing original shirts, each incredible story, each accomplishment, each journey becomes part of today's conversation. You continue the dialogue. James Hampton passionately leads HistoryGear.com. An experienced designer, James is committed to learning about the past and promoting dialogue about the extraordinary stories, accomplishments and journeys that have brought us to where we are now.
High Resolution CC Photography and Logos can be downloaded via the following link
http://tinyurl.com/msc246c