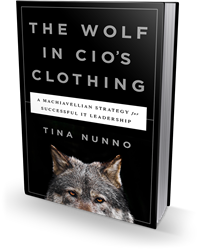 For the CIO, the ultimate animal is the Wolf – an ideal balance of an intelligent, social creature... and a ruthless predator.
Boston, MA (PRWEB) March 03, 2015
As an IT leader, are you predator or prey?
The extraordinary rate of change in IT can be a challenge to the CIO, dealing with increased expectations, and ever-growing demand for innovation in the face of shrinking revenue and resources. Often, the more extreme the expectations of IT in the enterprise, the more extreme the potential conflicts for the CIO.
Renaissance philosopher Niccolo Machiavelli advised that a leader should think like an animal because leaders are often embattled; they must master the Machiavellian principles of Power, Warfare, and Manipulation in order to succeed. In THE WOLF IN CIO'S CLOTHING: A Machiavellian Strategy for Successful IT Leadership (Bibliomotion, March 3, 2015) Gartner Analyst and VP Tina Nunno expands on Machiavelli's metaphor, examining seven animal types and the leadership attributes of each. She posits the Wolf as the ideal example of how a leader can adapt and thrive.
"For the CIO, the ultimate animal is the Wolf – an ideal balance of an intelligent, social creature that can inspire loyal fellowship and create group affinity; and the ruthless predator that can lead a pack of strong fighters, win in a competitive environment and command a large territory." –Tina Nunno
CIOs must display all of these qualities to lead highly complex IT organizations, deal with conflict, and master change. Nunno urges leaders blend the "light" and "dark" qualities associated with each animal in the ecosystem in order to embody the disciplines of the centrally balanced Wolf. Technology may be black and white, but successful leadership demands an ability to exist in the grey.
Thousands of CIOs have taken the Wolf CIO Quiz to determine which animal most closely resembles their leadership skills in difficult situations. Find out if you are a Wolf CIO at http://www.gartner.com/wolfcio.
About the Book
Title: THE WOLF IN CIO'S CLOTHING: A Machiavellian Strategy for Successful IT Leadership
Author: Tina Nunno
Publisher: Bibliomotion, Inc.
Publication date: March 3, 2015
Hardcover ISBN: 978-1-62956-087-8
Price: $24.95
About the Author
Tina Nunno is a Vice President and Gartner Fellow in Gartner's CIO Research group based in Stamford, Connecticut. She is responsible for conducting research and developing publications aimed at helping CIOs and their organizations around the world improve their performance and contribution. Tina specializes in CIO-related leadership issues, including working with the board of directors, executive communications, change management and governance strategies. She is the Analyst Sponsor of the Gartner Women's CIO Community, has co-authored Gartner's Annual CIO Agenda report, and is a sought-after speaker. Tina's most recent research deals with navigating organizational politics. She focuses on helping CIOs and other IT executives analyze sensitive political situations and apply strategies and tactics to deal with political land mines and power struggles.
Praise for The Wolf in CIO's Clothing
"Tina Nunno is a true visionary in CIO leadership. The Wolf in CIO's Clothing arms readers with the battle-ready skills needed to successfully turn a losing battle into a major victory – and to avoid playing defense in the first place. The Wolf in CIO's Clothing is a must-read for any aspiring technology leader. Moreover, it's highly recommended for anyone seeking to become a key influencer within their organization." – Brook Colangelo, SVP and CIO of Houghton Mifflin Harcourt
"The Wolf in CIO's Clothing is an outstanding book for navigating organizational politics. Throughout this quick read, Nunno presents specific ideas on how and when to take extreme measures for the good of the enterprise! This is the one leadership book you will quote, and reference, time and again." – Linda Kinder, SVP and CIO of Kellwood Company
"Tina Nunno has captured the essence of skillful IT leadership in The Wolf in CIO's Clothing. Our jobs are challenging – managing to find that artful balance between 'being nice' and 'being offensive' is difficult. Tina clearly articulates why it is important to achieve that balance – it is the key difference-maker for our own IT organizations and ultimately the businesses for which we work. A must-read for any CIO." – Edwina Payne, VP and CIO, Zimmer Holdings, Inc.
"It may have taken IQ to get to the CIO position, but it takes a killer EQ to be effective once you are there. Tina brings out the animal instincts every CIO needs to know and keeps you panting for knowledge straight through to the book's last gasp." – Beverly Tramontelli, consultant and former CIO
"When you read The Wolf in CIO's Clothing you can easily pick up Tina's passion and extensive experience of working with CIO's across the globe. " – Tshifhiwa Ramuthaga, CIO Financial Services Board (FSB), South Africa