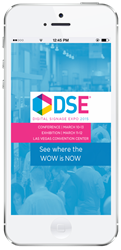 Columbia, MD (PRWEB) March 04, 2015
a2z, Inc., the Maryland-based event management software company, is pleased to present the ChirpE mobile app solution to Exponation for the attendees of the annual Digital Signage Expo (DSE) – the world's largest trade show of digital display and interactive technology. This event will take place March 10-13, 2015 in Las Vegas, NV.
The a2z-powered ChirpE mobile event app provides easy access to the complete expo schedule, event announcements, and social media posts – all in real-time and synced with the event website – providing for an enhanced experience.
The app's interactive floor plan offers attendees many features to increase productivity. Attendees can search for exhibitors by keywords or categories and view detailed exhibitor eBooths. An attendee can tag the exhibitors that they want to meet at the Expo and use the Walking Map to easily navigate to their locations. In addition, attendees can use the Planner to build a personal itinerary of scheduled meetings & conference seminars and use My Notes to take notes – all of which are accessible within the mobile app. The DSE 2015 mobile app is available for iPhone/iPad and Android phones as well as all internet-enabled smart phones.
DSE is the world's largest and longest running conference and trade show exclusively dedicated to showcasing innovative digital communications and interactive technology solutions for customer- and employee-facing organizations. This four-day event will attract decision-makers from various industry categories such as retail, restaurant, healthcare, education, hospitality and transportation, as well as key stakeholders, including advertising executives, brand marketers and systems integrators. The 2015 program at DSE will be comprised of pre- and post-show educational events, general conference seminars, as well as targeted Industry Roundtable Discussion Groups and free presentations staged in on-floor theaters.
For more information about the conference, please visit http://www.digitalsignageexpo.net/