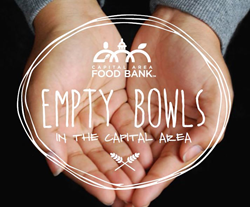 Springfield, VA (PRWEB) March 02, 2015
What: A very cool collision of area potters, Northern Virginia Businesses, local restaurants and people who care about hunger. The Empty Bowls Springfield event brings together artists, local restaurants and the community to help tackle the issue of hunger in the Washington metro region. For a minimum donation of $25, guests will savor delicious soups and breads from the areas hottest restaurants and leave with unique, handcrafted bowls donated by local artists. Guests keep their bowls as a reminder of how they helped fill empty bowls in the community. All proceeds from the sale of the art bowls go directly to the CAFB. The Capital Area Food Bank provides 5.6 million pounds of food to children, seniors and families in Northern Virginia, through 129 food assistance partners.
Who:
Participating artists: Eastern Market Pottery, Hinckley Pottery, Julia Paul Pottery, Jimmy Potters, Lee Arts Center and Strange Kitchen
Participating restaurants: Chuy's, Hilton Hotels – Springfield, Le Madeleine, Maggiano's Little Italy, Teaism and Yard House
Supporters: Hilton Hotels – Springfield and Greater Springfield Chamber of Commerce
When:
Thursday, March 5, 2015
11:30 AM – 2 PM
Where:
Hilton Hotel - Springfield
6550 Loisdale Road
Springfield, VA 22150
On-site parking available
Why: In Northern Virginia, over 55,000 children are at risk of hunger. This year, the CAFB distributed 5.6 million pounds of food in Northern Virginia.
Photo opportunities: Over 100 original bowls created by local artists; local chefs serving soup
RSVP: To register visit capitalareafoodbank.org/empty-bowls-va
To learn more about hunger and nutrition issues in the Washington metro area, log on to capitalareafoodbank.org
The Capital Area Food Bank is the largest hunger relief organization in the Washington metro area serving over 530,000 people through direct food distribution programs and a network of 500 food assistance partners. This year, the Capital Area Food Bank distributed 42 million pounds of food – the equivalent of 35 million meals – including 17.5 million pounds of fresh fruits and vegetables.