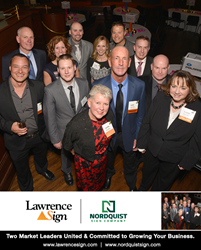 The team at Lawrence Sign and Nordquist Sign are very honored to be recognized as an ACG BOLD Award finalist.
Minneapolis, MN (PRWEB) March 02, 2015
The ACG BOLD Award program celebrates and honors leaders and their teams for imagination, innovation and extraordinary efforts to grow Minnesota. Lawrence Sign and Nordquist Sign were selected as one of only three finalists in the Corporate Small category for the team's ability to successfully and rapidly execute corporate growth strategies set forth by CEO Robb Walker.
Robb's vision included building a national sign company based in the Twin Cities; hiring the right business development and creative talent; and, growing organically and with strategic acquisition. The judges of the ACG BOLD Awards were particularly impressed with Robb's vision that had never been tried before: Manufacturing signs for the gaming industry from the Twin Cities.
"The team at Lawrence Sign and Nordquist Sign are very honored to be recognized as an ACG BOLD Award finalist," said Walker. "The experience and ingenuity demonstrated by the team has helped propel our pursuit for growth and innovation."
About Lawrence Sign & Nordquist Sign
For more than 80 years, Lawrence Sign has been assisting prominent companies to grow with new locations coast to coast with their multi-site sign program. Lawrence Sign proactively manages every aspect of their customers' sign programs including design, regulatory compliance, fabrication and installation and ongoing maintenance.
Lawrence Sign utilizes advanced technologies and expansive facilities to provide direct in-house control of the entire sign fabrication process. The Company excels at serving companies with a multi-site national and international presence.
Nordquist Sign has been fabricating and installing interior and exterior signage, architectural elements and way-finding signage for more than 100 years. Nordquist's customer base and scope of work includes custom signage and environmental graphics for hospitals, sports facilities, themed entertainment, corporate/financial and mass transit industries. Nordquist Sign also maintains a gaming division with offices in Las Vegas, NV and St. Paul, MN to serve casino gaming markets throughout the United States.
In early 2012, Lawrence Sign combined with Nordquist Sign to unite the unique resources and capabilities of the two companies. Together, Lawrence Sign and Nordquist Sign offer their clients more than 175 years of experience in sign manufacturing and installation for all facets of the signage industry.