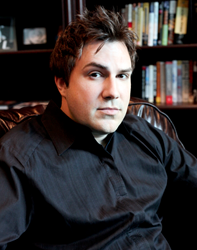 This is tremendous growth," says Jason Hope, "and it points to the fact that businesses are realizing just how helpful Internet of Things and the technology it brings can be for the future of their businesses
(PRWEB) March 03, 2015
In a recent report from Verizon, researchers found an increased adoption of Internet of Things among businesses, and Jason Hope believes this momentum will only increase in the future. According to the report, technological, social and political factors are fueling the increased Internet of Things deployments in the business sector.
The report from Verizon Enterprise Solutions, entitled "State of the Market: The Internet of Things (IoT) 2015: Discover How IoT is Transforming Business Results," was released on February 23, 2015. According to the report, Verizon saw 45 percent growth in year-over-year revenue in IoT businesses in 2014. Machine-to-machine connections managed by the tech and communications firm grew by as much as 204 percent in 2014.
"This is tremendous growth," says Jason Hope, "and it points to the fact that businesses are realizing just how helpful Internet of Things and the technology it brings can be for the future of their businesses."
According to Mark Bartolomeo, vice president of IoT Connected Solutions at Verizon, business applications and enterprise adoption are often overlooked when discussing the growth of the Internet of Things. "New use cases are created every day," he said, "but often the business case for IoT gets overlooked."
Bartolomeo cites an improved economy as one of the reasons for new business uses of the Internet of Things this past year. Also, the increasing societal demand for Internet of Things devices and connectivity, as well as the increased availability of the technology to power these changes, was also cited. The report also found that IoT solutions packaged in "off the shelf" options were being used with greater frequency in comparison to customized solutions, which is a new trend in 2014.
In spite of the growth in the report, Verizon claims that enterprise adoption is still low. Only 10 percent of companies have deployed IoT technologies extensively, according to Verizon's team. Because of this, enterprise adoption is likely to grow even more in coming years.
About Jason Hope
Jason Hope is an entrepreneur and futurist in Arizona who uses his influence and resources to encourage the growth of the Internet of Things. As a philanthropist, he also works hard to better the condition of people in his local community. Learn more about his work at http://www.jasonhope.com.