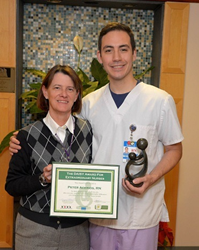 Bronx, NY (PRWEB) March 02, 2015
Calvary Hospital recently honored Peter Acerios, RN, a nurse at their Brooklyn Satellite in Lutheran Medical Center, with the DAISY Award. Nurses recognized with this quarterly award must demonstrate excellence through clinical expertise as well as extraordinary, compassionate care. Honorees are also expected to go above and beyond to make a difference and exemplify a "healing touch" presence with patients and their families. Award recipients are chosen by co-workers, administrators, peers, physicians, patients and families.
Acerios, 29, received numerous nominations by fellow nurses as well as family members of Calvary patients. Some of the nominations included the following two comments:
"The most kind, caring and compassionate nurse/person I have ever met. My husband has spent most of the last three years in and out of some of the finest hospitals in New York. In that time, I have met some wonderful nurses but no one compares to Peter. He has gone above and beyond his duties in caring for my husband and I so appreciate all of his efforts in keeping my husband comfortable and well cared for."
"Peter takes every opportunity to not only improve his patient's condition, but nurture their spirits as well. It is my feeling his commitment to excellence coupled with his caring and compassionate nature makes him an ideal candidate for the Daisy Award."
Acerios began working at Calvary Hospital in 2013, four months after he received his nursing degree from the College of Staten Island. He chose this field after a friend's mother, knowing that he was seeking a meaningful career, pointed out that this would be a good match for his caring personality. Acerios' hobbies include working on his car, a 1990 Mustang, and surfing in Long Beach Island, NJ. Acerios is a native of Staten Island, where he currently resides.
DAISY (http://www.daisyfoundation.org) is an acronym for Diseases Attacking the Immune System. The foundation was formed in January 2000 by the family of J. Patrick Barnes who died at age 33 of complications related to Idiopathic Thrombocytopenic Purpura (ITP). Patrick really liked Cinnabons at the end of his life and always made sure there was enough of this culinary treat for all the nurses in his unit. As a result, all DAISY honorees are treated to Cinnabons at every presentation. Each hospital also receives a special banner to hang in the recipient's unit as a way to celebrate the DAISY Award honors and the nursing profession.
About Calvary Hospital:
Calvary Hospital is the nation's only fully-accredited acute care specialty hospital devoted exclusively to providing palliative care to adult advanced cancer patients. A 225-bed facility with locations in the Bronx and Brooklyn, Calvary is the model for the relief of cancer pain and symptoms for more than a century. More than 6,000 patients are cared for annually by Calvary's inpatient, outpatient, home care, hospice, nursing home hospice and wound care services. To learn more or sign up for the e-newsletter, Calvary Life, please go to http://www.calvaryhospital.org.