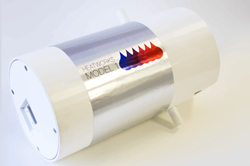 Charleston, South Carolina (PRWEB) March 02, 2015
ISI Technology accompanies Qualcomm at the 2015 Mobile World Congress (MWC) in Barcelona, Spain from March 2-5 in Hall 3 Stand 3E10. MWC is the world's largest annual gathering of mobile and related industry decision makers, with more than 85,000 attendees. The Heatworks MODEL 1, among other connected gadgets, is being featured as an AllJoyn Internet of Everything enabled device.
The Heatworks MODEL 1 utilizes Qualcomm Atheros' low-power Wi-Fi chip, the QCA4004, in their electric tankless water heater. The QCA4004 networking platform enables customers to add Wi-Fi to virtually any product, including the MODEL 1. This platform also features the AllJoyn open source software framework, which enables interoperability among a diverse set of products, applications and services to discover, communicate and interact with each other.
Unlike any other tankless electric water heater, the Heatworks MODEL 1 does not have a heating element. All other water heaters utilize heating elements that reach upwards of 1,000 degrees Fahrenheit, causing them to fail. Instead, the MODEL 1 uses graphite electrodes and water's natural resistance to silently heat water and provide instant and endless hot water. With the MODEL 1, if there is no water flowing, there is no electricity flowing. Therefore, the MODEL 1 saves up to 40% of energy costs devoted to heating water 365 days a year, every year. Additionally, when located close to the point of use, the MODEL 1 provides 10% water usage savings.
The green, connected and cost-effective Heatworks MODEL 1 is available today at myheatworks.com
About ISI Technology
ISI Technology is led by engineer Jerry Callahan, the cofounder of Blue Rhino, the world's leading propane cylinder exchange company. Jerry invented and patented the technology that powers the Heatworks MODEL 1 and leads a team of heating, technology and plumbing veterans with over 50 combined patents.
More at http://myheatworks.com
-###-