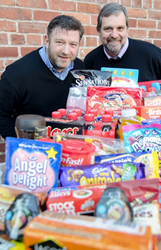 (PRWEB UK) 3 March 2015
A business built on the British public's love of a bargain is to roll up the shutters of its 60,000 sq ft warehouse to the cameras of an ITV fly on the wall documentary and lift the lid on its unique business model.
Approved Food, the UK's largest online retailer specialising in groceries that are past its best-before-date, will become the focus on an ITV documentary, looking at how Brits are saving money on their shopping in today's economy. The warts-and-all documentary will give the viewers an honest insight into how the bargain business is run and the UK's love of a good deal.
The prime-time documentary 'Bargain Fever Britain' delves into the UK's insatiable appetite for bargains, deals and discounts. The show uses four UK retail giants as a platform to hone into the current UK retail landscape, where paying full price is not considered an option - something which particularly rings true with Approved Food, who are known for their value for money and convenience to customers.
Dan Cluderay founded Approved Food in 2008 and works alongside Director Andy Needham to build a scalable and fast developing business, dispatching more than 115,000 orders and over nine million items in 2014 alone from their Sheffield warehouse.
The fly-on-the-wall documentary showcases the increase in Approved Food's popularity, with their relocation to a new 60,000 sq ft warehouse and expansion to more than 50 staff to meet the wider demand of bargains from the UK and Europe.
Throughout the documentary viewers will also see the inner workings of Approved Food and their principles. As well as providing a bargain to customers the company also strives to prevent food waste, using stock sourced directly from food manufacturers, wholesalers and distributers which may otherwise be disposed of or enter into waste streams for no valid reason.
Dan, former market trader and the soon-to-be star of the ITV series said: "Filming the documentary was great fun and it's a brilliant way to show our current and potential customers how our business works and how it's needed in today's economy.
"We appeared on Dragons Den two weeks ago but the viewers weren't really given the opportunity to see what Approved Food is all about. On Bargain Fever Britain you will get to see the trials and tribulations of trying to grow a small business, warts and all!
"We all know that Britain loves a bargain and the reason why Approved Foods can be so likable is not just because we help families save 70% on their weekly shop, but we're helping out with the bigger problem of food waste too."
The first episode of ITV's Bargain Fever Britain is schedule on air Tuesday March 3rd at 8pm.
Website: http://www.approvedfood.co.uk
Notes to editors:

Approved Food, part of the Approved Group, http://www.Approved-Group.co.uk was established in 2008 by founder Dan Cluderay;
Approved Food is the largest online-only retailer of short-dated and residual stock food and drinks;
In 2014 the business dispatched more than 115,000 orders, and over nine million items;
Approved Food is an international business shipping to countries across Europe;
Products are sourced directly from food manufacturers, wholesalers and distributers with Approved Food accommodating excess stock that may otherwise be disposed of or entering in to waste streams for no valid reason;
In September 2014 the business relocated to its new 60,000 sq ft warehouse in Sheffield, South Yorkshire where it now employs more than 50 members of staff;
In February 2015 founder Dan Cluderay appeared on Dragon's Den alongside fellow director Andy Needham
The group also consists of two sister brands including: http://www.greatbritishsweets.co.uk and http://www.NaturallyFree.co.uk