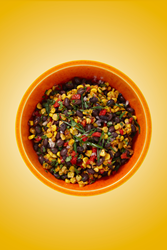 Winston-Salem, NC (PRWEB) March 03, 2015
In like a lion, out like a lamb. That's what everyone hopes for in March. The first day of spring is upon us and it's time to put those big bulky sweaters away. The days are getting longer and the weather is getting warmer so this month, try eating clean with these recipes and prepare for the fun vacations that are ahead of you. The chefs at Texas Pete and Green Mountain Gringo have created bold, favorable and clean recipes to kickstart your healthy spring eating.
Spicy Roasted Corn and Black Bean Salad
Ingredients:
Salad:

4 Cans Corn, drained well
3 Tbsp. Olive oil
Salt and Pepper to taste
4 Cans Black Beans, rinsed and drained well
½ Red Onion, minced
2 Cups Roasted Red Bell Pepper, small diced
1 Bunch Cilantro, fresh, rough chopped
1 Bunch Scallions, sliced thin on a bias
Dressing:

4 Tbsp. CHA! by Texas Pete®
¼ Cup Red Wine Vinegar
1 Lemon, juiced
1 tsp. Dijon Mustard
½ Cup Olive Oil
1 tsp. Cumin
1 tsp. Chili Powder
Salt and Pepper to taste
Directions:

Turn on the oven broiler.
Drain the corn well and place it in a mixing bowl.
Toss the corn with the olive oil and season with salt and pepper.
Place the corn in an oven-safe dish and place under the broiler for approximately 5 minutes or until the corn has lightly charred.
Place the corn in the refrigerator to chill.
Once the corn is cold, place it in a large mixing bowl.
Add the black beans, minced red onion, roasted red bell peppers, cilantro and scallions. Combine well.
Place all ingredients for the salad dressing into a blender and puree until smooth.
Pour the dressing over the corn and black bean salad and mix well.
Season with salt and pepper and keep refrigerated until ready to use.
For more CHA! recipes, check out chaddiction.com.
Chicken á la Amy
Ingredients:

¾ Jar Green Mountain Gringo® Medium Salsa
2 Cups Basmati Rice
4 1/2 Cups Organic Chicken Broth
3-4 Boneless Chicken Breasts
½ Bermuda Onion, diced
3 Tbsp. Olive Oil
1 tsp. Kosher Salt
Pinch Black Pepper
½ Cup Fresh Basil
3 Tbsp. Fresh Sage
Directions:

Stir the rice and the broth together in a saucepan. (2 cups rice, 4 cups chicken broth). Bring to a boil and reduce heat and cover.
Tenderize the chicken breasts with a meat hammer. Add the chicken breasts, onion and olive oil into a pot. Bring to a sizzle. Reduce heat and add salt and pepper.
After the onions start to soften, add ½ cup of chicken broth.
Add the salsa, basil and sage. If it seems to need it, add a little more oil and cover.
Simmer breasts for about 20 minutes. Do not overcook.
Take the rice off heat after 10 minutes, let it sit, covered, while you wait for the chicken to cook. Baste the chicken with the contents of the frying pan.
When chicken is cooked, you should have a delicious sauce to put on top of the rice.
Serve with steamed zucchini.
For more Green Mountain Gringo® recipes, check out greenmountaingringo.com.
Texas Pete® Sultry Grilled Chicken
Ingredients:
Chicken:

2 ½ Cups Texas Pete® Original Hot Sauce
2 Tbsp. Finely Chopped Garlic
4 Oz. Olive Oil
1 tsp. Kosher Salt
1 tsp. Pepper
2 lbs. Boneless Chicken tenders or thighs
Sauce:

¾ Cup Texas Pete® Original Hot Sauce
2 Tbsp. Olive Oil
2 Tbsp. Chopped Garlic
2- 26 Oz. Jars Marinara Sauce (prepared, try low sugar)
2 Cups Kalamata Olives, drained, roughly chopped
3 Tbsp. Red Wine Vinegar
1 tsp. Pepper
Chopped Fresh Parsley, for garnish
Directions:

Combine Texas Pete® Original Hot Sauce, chopped garlic, olive oil, kosher salt and pepper for marinade
Place chicken in large, sealable container or bag. Add marinade and allow to coat.
Refrigerate 48 hours.
Drain chicken before cooking. Discard marinade.
Grill chicken until internal temperature reaches 165 degrees Fahrenheit. Alternatively, bake chicken at 400 degrees Fahrenheit for 40 to 50 minutes or until internal temperature reaches 165 degrees Fahrenheit.
To make sauce, sauté garlic in olive oil until fragrant.
Add olive oil, chopped garlic, marinara sauce, Texas Pete® Original Hot Sauce, olives, red wine vinegar and pepper. Simmer for 15 minutes to allow flavors to blend.
Top cooked chicken with sauce. Garnish with chopped parsley.
For more delicious recipes, visit TexasPete.com.
###