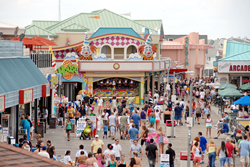 Toms River, NJ (PRWEB) March 03, 2015
All these snow days are giving the Point Pleasant Borough Council plenty of time to prepare for the upcoming summer season. Several spring and summer functions have already been confirmed for the 2015 season including the town's annual Summerfest and the Point Pleasant Jazz and Blues Festival. The Borough Council authorized these events and others at a recent meeting.
Summerfest will be held on Sunday, June 7, 2015 from 11:00 am to 7:00 pm at the Community Park in Point Pleasant, New Jersey. The afternoon features live music, food vendors, crafters, artists, and beer and wine for guest's enjoyment. Wristbands are $10 for the whole day.
Gather around at the Riverfront Park in Point Pleasant Boro, New Jersey on Saturday, June 20, 2015 for the Point Pleasant Boro Jazz and Blues Festival from 12:00 pm to 8:00 pm. The festivities include musicians, a beer and wine garden, crafters and activities for all ages. The chamber has also added an adults-only event to take place the night before consisting of jazz and oldies music and a beer and wine garden. The festival is free to attend.
For more information, visit http://patch.com/new-jersey/pointpleasant/getting-ready-summer-cold-winter. For a complete list of upcoming Jersey Shore events, visit http://www.visitthejerseyshore.com/visitor/calendar/.
About Surf and Stream Campground
Surf & Stream Campground is a family-friendly RV park located near all of the most popular beaches at the Jersey Shore. The campground includes a full-size swimming pool, picnic area, activities for all ages, weekend events and more. For more information about Surf & Stream Campground, visit their website at http://www.surfnstream.com or call 732.349.8919.