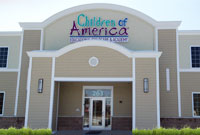 "What sets us apart from any other childcare companies is the quality of our curriculum and staff training" says Children of America, President Jim Perretty
Florida (PRWEB) March 03, 2015
Florida based Children of America, LLC announces it's Grand Opening of its sixth daycare facility in New Jersey, April 6, 2015. The 10,000 square foot center will provide childcare for 192 students. A Grand Opening Event will be held Saturday March 28, with games, refreshments and fanfare for all.
"What sets us apart from any other childcare companies is the quality of our curriculum and staff training" says Children of America, President Jim Perretty, "We offer services far beyond conventional child care and have raised the bar for child care in the US."
Perretty adds, "The Company continues to invest in our best assets, our team of educators and our programming. We see this, as more of a duty rather than a goal, to provide the very best environment and tools for our children and staff to learn and grow."
Children of America is the product of years of development and research expanding its value-added programming to include a proprietary book series written for children, a staffed nutritionist for school meal planning, private nutrition consultations and family recipes and tips and our daily reporting tools for parents, updating the daily progress of each child. "Our commitment to the family and the child is paramount to our company philosophy."
Grand Opening Events Details
Location: 263 Blackwood Barnsboro Rd., Sewell, NJ 08080.
Date: March 28, 2015
Time: 10AM - 2PM
Phone: 856-874-8863
Site: childrenofamerica.com/locations-sewell.cfm.
Email: coasewellnj(at)childrenofmaerica(dot)com
About Children of America
Children of America operates facilities throughout Delaware, Illinois, Indiana, Maryland, Massachusetts, New Jersey, New York, North Carolina, Ohio, Pennsylvania, Virginia and Wisconsin. The company plans to open 50 new facilities across the country over the next five years. COA offers the highest level of care for children ages six weeks to twelve years of age. The premier programs include infant care, toddler care, nationally renowned preschool and pre-kindergarten programs, before-and-after school care, and summer camp. An industry pioneer, Children of America is a subsidiary of World Wide Child Care Corp. Visit the COA website for more information or interact with COA on Twitter and Facebook.