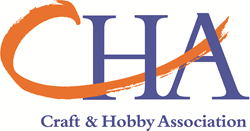 ELMWOOD PARK, NJ (PRWEB) March 10, 2015
March is National Craft Month. Started by the Craft & Hobby Association (CHA), this year marks the 21st year that National Craft Month has been celebrated. Partnering with the CHA Foundation's consumer awareness initiative, CRE8TIME, National Craft Month is enjoyed and celebrated globally every March.
In celebration of National Craft Month 2015, CHA will be hosting a "National Craft Month Selfie Contest" on Facebook encouraging consumers to visit their local craft retail store and take a "selfie" in the store and post it using the hashtags #NationalCraftMonth and #CRE8TIME. The winner will receive a travel package to any CHA Trade Show for their retail store owner as well as a $100 store credit to shop in the retail store where the selfie was taken. Click here for more information.
"National Craft Month has always been a time to celebrate the art and benefits of crafting," said Andrej Suskavcevic, President & CEO, Craft & Hobby Association. "This year we combined the popularity of the global selfie trend along with supporting local retail craft stores to create a theme for National Craft Month that encourages people to get creative and shop local".
For the 62.5 million people in the U.S. that participate in crafting activities, National Craft Month is the perfect opportunity to rediscover all that crafting has to offer. Whether you craft to reduce stress, build self-esteem, or for the sheer satisfaction of creating something with your own hands – crafting provides benefits beyond the initial project. Visit cre8time.org for creative inspiration.
ABOUT THE CRAFT & HOBBY ASSOCIATION
The Craft & Hobby Association (CHA) is an international nonprofit trade association consisting of thousands of member companies engaged in the design, manufacture, distribution and retail sales of products worldwide in the craft and hobby industry. For more information about CHA, membership or its award-winning CHA Conference and Trade Show, visit http://www.craftandhobby.org.