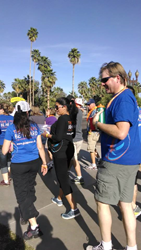 A 2013 Tel Aviv study found that Chron's Disease Activity Index was improved using cannabis . . .
(PRWEB) March 03, 2015
Nobody should be in pain when battling or living with an illness. Crohn's disease and colitis are Irritable Bowel Diseases (IBDs), which are chronic, painful, and impact 1.4 million Americans. Common symptoms include abdominal cramping, pain when using the toilet, and fever. The Giving Tree Wellness Center, Phoenix and Mesa's local and leading medical marijuana dispensary, is committed to helping people treat pain naturally, quickly, and efficiently. On April 11, 2015, The Giving Tree is walking as a team in the Take Steps for Crohn's and Colitis Foundation of America (CCFA) Walk. As a community, knowledge and information about these uncomfortable diseases can be shared and addressed.
Medical marijuana has been used for thousands of years in nearly every culture to treat pain and cramps. Unfortunate side effects of Crohn's disease and colitis are stress, anxiety in social situations, disturbed sleep, and loss of appetite—all symptoms which may also be aided by medical marijuana. A 2013 Tel Aviv study found that Chron's Disease Activity Index was improved using cannabis, not just the side effects. In fact, five out of eleven patients with treatment-resistant Chron's actually went into remission and "there were no significant side effects."
Joining the biggest national event committed to finding a cure for IBD is an annual tradition for The Giving Tree. This year, Monarch Dispensary will be joining The Giving Tree as a walking partner, which is a great "step" towards welcoming more industry partners and dispensaries to follow suit. With each step during the two to three mile stroll, money is raised for critical research and a future without Crohn's disease and colitis gets closer. Sadly, hundreds of thousands of Americans suffer silently. The Giving Tree is dedicated to helping fight these IBDs, and needs the help of neighbors nearby and around the country.
The Giving Tree's team goal is to raise $9,000. Employees from both Wellness Center locations, Phoenix and Mesa, will be participating. All funds raised for The Giving Tree's team will be matched. Every donation supports Phoenix-area patient programs and national research. However, donors can do more than donate. Join The Giving Tree, the CCFA, and other supporters at this family-friendly, fun-filled event.
Come to the Phoenix Zoo and enjoy music, food, and activities. Donors can walk with The Giving Tree team if they choose, simply enjoy the festivities, or support the CCFA and The Giving Tree solely with a financial donation. Every dollar raised means getting closer to making life more bearable for sufferers and their loved ones. Join The Giving Tree team online, make a donation, or find out more about this exciting event.
Additionally, there will be a raffle prize during the event. For just $5 per ticket, raffle participants enter to win a gift basket valued at $1,800. A number of Giving Tree supporters and vendors have generously donated to the raffle prize including Chameleon Glass, a local maker of glass pieces who has donated custom pipes to the basket, and Kind Tray who has donated the Hybrid Slick Stack Tray to hold glassware, a grinder, and many additional medical marijuana accessories. Canna-Releaf of Mesa has also provided a generous donation, as has The Phoenix Certification Clinics which donated a doctor visit for certification including the $150 Health Department fee. Edibles and oils are also included, such as goodies from The Green Halo, Bhang, and GramsFx. A variety of medicinal flowers are part of the grand prize, CBD Products from Cibdex, gift cards to eateries, and much more.