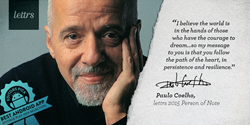 "I can send tasteful messages to my fans with an original signature that is so different from the tedious and disappearing messages that require no thought at all." - Izabella Miko
New York, NY (PRWEB) March 10, 2015
lettrs™, the rapidly growing global social messaging app available in 80 language translations for "messages that matter," announces multiple growth initiatives and partnerships for continued international expansion.

New SMS capabilities, turning iPhone and Android numbers into mobile PO Boxes registering users for the industry's first delivery of original social signatures on messaging apps and text messages
World-renowned writer Paulo Coelho as a 2015 Person of Note SocialStamp. Mr. Coelho is a user of lettrs and recipient of signed lettrs messages with fans around the world
A limited-edition SocialStamps collection including a new "lettrs Forever" mobile stamp with Hollywood actress Izabella Miko
Dynamic message sharing via SMS, WhatsApp, Twitter, and Instagram
"What an honor for us to see the presence of Paulo Coelho, author of The Alchemist, in our global network to redefine Messaging 2.0," said Drew Bartkiewicz, founder and CEO of lettrs. "Quality is the most essential ingredient to making a lasting message, one where a person is actually engaged to read and preserve words. Mr. Coelho is a modern man of lettrs for what he means to words and what he means to our growing network across the world."
The lettrs' SMS delivery announcement follows Google's selection of the lettrs Android app as one of the Best Apps of 2014. The ability to hand sign mobile messages with a one-minute time minimum and branded SocialStamps™, take messaging to a new level of personality and permanence.
"lettrs allows me to have a more personal and lasting relationship with my fans. I can send tasteful messages to my fans with an original signature that is so different from the tedious and disappearing messages that require no thought at all," said Izabella Miko, actress, producer.
lettrs has established partnerships with high-profile brands to bring messaging to the next level of style and will expand its brand and celebrity partnerships this year.
"What Instagram did to modernize and enhance pictures lettrs is doing with words, with mobile signed messages of brands and fans, in poetry and prose," comments Bartkiewicz. "Paulo Coelho joins Bob Woodruff, Michelle Phan, and Narendra Modi as another lettrs Person of Note, and now a writer of lettrs in his own right."
About lettrs™
lettrs™ is the social messaging platform for signed and designer messages. The company provides a global mobile network for personalized messages, mobile stamps and original signatures. With users from 174 countries communicating in 80 languages, lettrs offers a global platform to help brands, celebrities and consumers compose messages that matter. lettrs is 2 percent owned by the lettrs Foundation, which is dedicated to elevating literacy, leadership and legacy in the mobile generation.
For more information, visit lettrs.