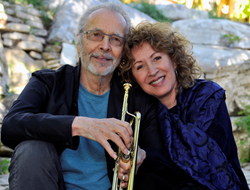 "We are proud to celebrate the 21st Anniversary of The Herb Alpert Award in the Arts." Rona Sebastian, President of the Herb Alpert Foundation
Santa Monica, CA (PRWEB) March 02, 2015
The Herb Alpert Foundation and California Institute of the Arts (CalArts) will award the 21st Annual Herb Alpert Award in the Arts to five exceptional mid–career artists, presented at a lunch hosted by the Herb Alpert Foundation in Santa Monica on May 1, 2015.
The awards recognize past performance and future promise to artists working in Dance, Film/Video, Music, Theatre and Visual Arts; an outstanding candidate in each genre receives a prize of $75,000.
"We are proud to celebrate the 21st Anniversary of The Herb Alpert Award in the Arts," says Rona Sebastian, President of the Herb Alpert Foundation. "Each year the program honors​ five ​unique and ​innovative mid–career artists, chosen ​for their past, present and anticipated future​ contributi​ons to their ​​fields — artists who ​take creative risks and push the boundaries of artistic expression."
Irene Borger, the Director of the Herb Alpert Award in the Arts, selects the distinguished panelists for each of the Award's five disciplines.
2015 Herb Alpert Award Panelists:
DANCE:
Bonnie Brooks, assoc professor, Dance, Lead Curator, Dance Presenting Series, Columbia College, Chicago
Rennie Harris, founder and artistic director, Rennie Harris Puremovement, Herb Alpert Artist, Philadelphia
Victoria Marks, choreographer, professor, UCLA, World Arts and Cultures/Dance, Herb Alpert Artist, Los Angeles
FILM/VIDEO:
Natalia Almada, filmmaker, Herb Alpert Artist, San Francisco + Mexico City
Lucien Castaing–Taylor, filmmaker/anthropologist, director, Sensory Ethnography Lab, Harvard University, Herb Alpert Artist, Cambridge
Pablo de Ocampo, Exhibitions Curator, Western Front, Vancouver, BC
MUSIC:
Derek Bermel, composer, clarinetist, Herb Alpert Artist, Brooklyn
Carman Moore, composer/founder, The Skymusic Ensemble, New York
Pamela Z, composer/performer, Herb Alpert Artist, San Francisco
THEATRE:
Naomi Iizuka, playwright, head of MFA playwriting, University of California, Herb Alpert Artist, San Diego
Morgan Jenness, creative director, This Distracted Globe Consultancy; adjunct, Theater Dept., Columbia University, Pace University, Fordham University, New York
Marc Robinson, professor of theater studies and English, Yale University; professor of dramaturgy and dramatic criticism, Yale School of Drama, New Haven
VISUAL ARTS:
Julia Bryan–Wilson, art historian, associate professor, UC Berkeley, Berkeley
Christine Kim, associate curator, contemporary art, LACMA, Los Angeles
Gilbert Vicario, senior curator, Des Moines Art Center, Des Moines
For more information about the Awards, please visit:
http://www.herbalpertawards.org
http://www.herbalpertfoundation.org